We're big on recycling here at TonerGiant.
Ok, so lots of companies say that. But we mean it. Let's face it, ink and toner cartridges are the type of consumable that many of us simply throw away and ship off to landfill sites. So it's up to us as a responsible company to make sure that less of the products we sell to you are impacting negatively on the environment.
As part of our commitment to recycling, we try to highlight ways that we can all be a bit greener with our printers and printing. And with today being World Environment Day, we thought it'd be a brilliant opportunity to bring them up!
But first, here's what today is all about: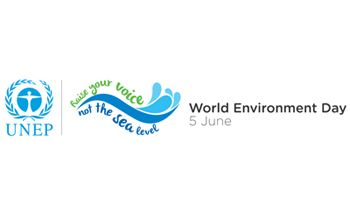 World Environment Day (WED)
Created by the United Nations Environment Programme (UNEP), WED is a global day of environmental awareness. The UNEP calls it the "people's day for doing something positive for the environment, galvanising individual actions into a collective power that generates an exponential, positive impact on the planet." It's marked with initiatives in over 100 countries worldwide.
This year the UNEP is using WED to raise the awareness of how climate change is affecting Small Island Developing States (SIDS). By doing so, it emphasises the importance of all doing our bit to help the environment to protect those that are feeling the effects of global warming the most.
This year's theme message is "raise your voice, not the sea level."
Why it's important to us
WED marks a perfect day in the calendar for us to make people aware of a few simple things that they can do with their printers at home or at the office to help with this cause.
Did you know that 8 cartridges are thrown away every second? So imagine,  if every business in the UK today sent their empty ink and toner cartridges to recycling rather than putting them in the rubbish, the impact that would have on the collective, global contribution of WED.
We believe that being environmentally responsible is just the right thing to do for any modern business.
Why it should be important to you
As a nation, we've fast become one of the greenest in Europe, and that's great! The image below shows that from 2001-2010, the UK increased its recycling efforts at a rate of 26.5%, faster than any of our European neighbours.
The progress doesn't stop there, either. More specifically, from working with consumers and the government, UK businesses now recycle half of the waste that they produce.
But could your business be doing more? And why should you? Well, be greener with your printing and you can:
Demonstrate your green credentials. Recycling is something that more and more consumers care about. If you can show to your customers what you're doing to be greener you'll likely strengthen your relationships.
Adhere to government legislation. With the government working to ensure businesses like yours are doing more to reduce waste and to invest in recycling initiatives, being more environmentally friendly with your printing is just one of the ways in which you can do this.
Reduce costs! Whether it's reusing paper or turning your printers off at night, being greener could actually help you to save money.
What you can do
To help kickstart a greener you on WED, here's a few posts to get you going:
For more posts like this, some shocking statistics about printing waste and everything you need to know about our Recycling Programme, visit our recycling hub.
Are you doing anything for WED? What does your business do to be more environmentally friendly? Leave a comment below or tweet us @TonerGiant.