Running out of stamps. No petty cash. Snaked queues of people each waiting to empty their jars of pennies at the till.
If you're in charge of doing the post office run for your business, how many of the above have you experienced?
It can be a frustrating task and one that needlessly eats away at time in your day. But what if you could send outgoing mail without stamps, without the need for any loose company cash to hand and never having to see the backs of a sea of penny hoarders heads again?
All of this is avoided when using franking machine. Not only is it practical, but you could save money every time you send something out in the post.
What is a franking machine and how does it work?
A franking machine allows you to stamp your own mail as it adds up the total cost depending on the size and class of delivery. Owning one allows you to add franking credit as and when you need it, meaning you don't need to visit the post office to go and buy stamps every time you need to post something out of the business.
You can also create a postage stamp unique to your business, which allows your respondents and customers to see straight away where the letter is from.
The history of franking
Norwegian Engle Frankmussler created the first franking machine back in 1884. It was designed to make the payment of post more efficient which would, consequently, ensure that more post got delivered to its intended destination. The early machines used a crank to imprint dye onto mail, whilst a meter denoted the cost of each package and letter. To reset the meter and continue printing, the machines would have to be taken down to the post office.
Today the use of digital technology and inkjets mean that franking machines are even more robust and efficient. You can now top-up your franking credit over the phone or online, with the latter a 24 hour facility.
How much does it cost to send franked mail?
The current Royal Mail franking prices (and savings compared with standard postage) are: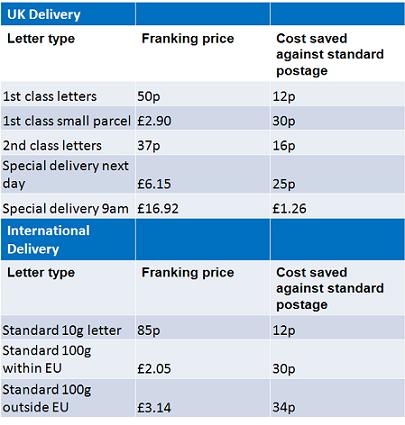 Should I consider franking? The advantages
Those savings above should be enough for any business that sends out lots of mail to consider investing in franking. But there are plenty of other benefits, besides:
Easier to pay for postage- no need for stamps
Online or over the phone top-up
Everything done in-house – no more trips to the post office
Personalised stamps for your business for a more professional image
Franked mail means that it is delivered as business mail with fewer delays
Royal Mail do a pretty nice job of rounding up all of these advantages up in this video:
In summary
Franking makes sending out business mail fast and efficient. Everything can be done in the workplace and managed easily without the need for spending unnecessary time at the post office. And depending on how much mail you send, the cost savings could add up to be huge in the long-run!
Does your business already use a franking machine? What do you find most useful about it? Share your experiences with us.