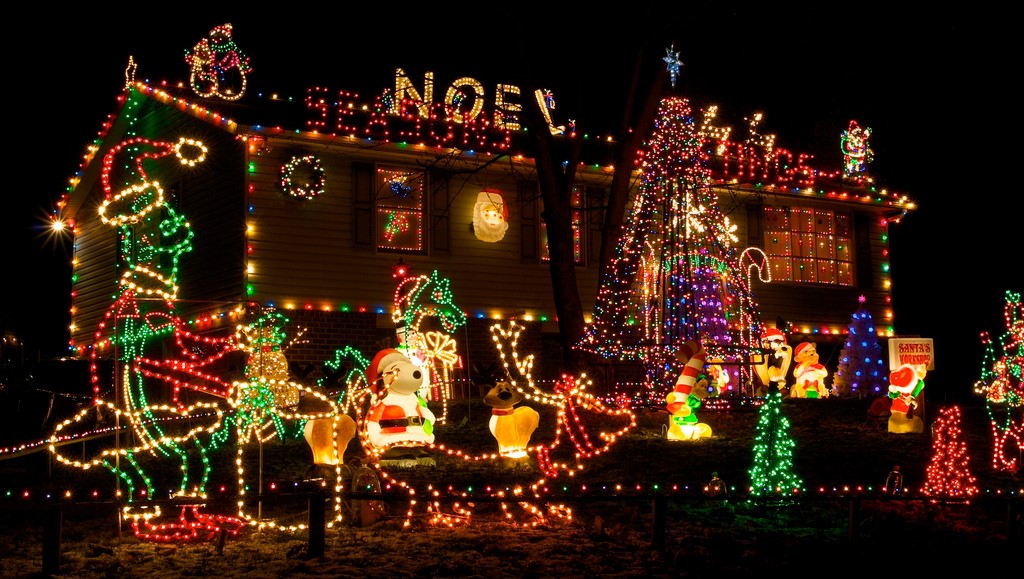 Image source: DigsDigs.com
With only one week to go 'till Christmas, you've presumably bought your Christmas tree which is now taking pride of place in your home with loads of tinsel and baubles on it. You will probably also have had quite a few Christmas dos with colleagues, friends and family and sung (or at least hummed, come on, admit it!) to endless cheesy festive songs wherever you went. If you're the well-organised type, you will also have written and sent all your Christmas cards, ordered the food for the Christmas dinner and maybe also baked some Gingerbread men or other delicacies that fill the house with all those nice festive smells that we all cherish and love.
But wait! Have you also put up some decorations around the house or thought about the time when your kids or other young family members swan the house looking to be kept entertained throughout the holidays?
If the answer is 'no' or if you're looking for some additional inspiration for how to make your house or office look even more Chistmass-ey and to also occupy the little ones while you're catching up on the year with your friends and family, then look no further. We've put together a few ideas that can easily be printed off from a home or office printer and that are inexpensive to produce.
Games
For small children, Christmas-themed mazes, join-the-dots games and colouring pages are always a great idea. Kids love getting creative and also a little competitive, so you could present them with a set of these games printed out on simple white sheets, gather them round the table, provide them with some pencils and colouring pens and tell them that whoever gets to the end of the maze first or who manages to join the dots up the quickest, will be the first to try the minced pies or biscuits that are currently in the oven.
Some great templates to print off can be found here:
Image source: Activity Village
Image source: Big Activities
Image Source: Activity Village
Decorations
As for home decorations, we quite liked the idea of making mini-Christmas trees out of printed papers.
Image source: Glorious Mind
Those trees are fully customisable as they can vary in size, font and colour and they can be made to stand on tables or cupboards or be attached to ribbons or hooks and hung on the actual Christmas tree. We think they add a nice vintage element and just something different to the usual decorations. If, like us, you've long become used to reading the papers online, just do a quick search to find some suitable articles, print them off and maybe glue them onto some green drawing paper, which will also add some depth to the print.
Next, draw some shapes of Christmas tree of various sizes to use as templates. Depending on the quality of your printing paper, you will need around 5 sheets per tree. Using the template, draw along its outer lines onto the one of your prints. Next, stack all the prints up evenly and cut along the shape of the tree. After that, staple the prints together and crease the pages so that they fan out. Do this until you have achieved a full 3D effect and so that the trees will stand up on their own.
If you want to add a little sparkle, try spraying the trees with some glitter or gold dust or glue some left-over tinsel or fake snow onto them. We think these trees would also work well as table cards or to send a message to someone special. So instead of printing existing newspaper articles, you could write your own and mention the name of the recipient. This would add a nice personal touch when the addressee finds the tree on their plate before dinner or even hanging on the Christmas tree.
Overall
Hand-made Christmas games and decorations might take a little more time and effort compared to the generic ones you can buy in just about any shop. However, we think that kids and adults alike will appreciate the thought that's gone into creating them and thus your guests will be able to relax and feel welcome at your house.
We hope that our ideas inspire you do to something a little different this Christmas and make fun and memorable for all the family. Have you ever made any Christmas decorations yourself? If so, we'd love to hear from you or see some pictures in the comments section below.