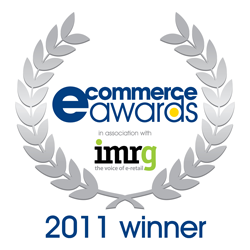 As I took my seat at the table in the ballroom at the Sheraton Park Lane Hotel in London, for a brief moment, I felt a little self-indulgent… It was only 5 years ago that TonerGiant.co.uk was launched and now I was sitting in this glamorous setting surrounded by some of the UK's most respected and successful companies…
Wow, I noticed the tables near us were occupied with the likes of John Lewis, ASOS, Debenhams, Jessops and Wiggle; how far we have come in such a short period of time I thought.
We had secured our place at the finals in the category 'Consumer Choice Award' which would ultimately be won by the company that secured the most votes from their customers.
To get to the finals at all was a great achievement, but could we really gain more votes than our fellow finalists; Lovehoney, Surf Dome and the colossus that is Kiddicare? As comedian and compare for the night Simon Evans went through his routine, I felt less nervous, but that of course that could be attributed to a couple of beers and a glass of red consumed already!
Our category was the fifteenth of the night; we graciously applauded those that won before us but I couldn't really concentrate on the events as much as I tried… Could this be our night?
10.20pm… Simon Evans started his announcement for the 'Consumer Choice Award'… It was slow motion and fast forward all at the same time. I then heard these words… 'And the winner is TonerGiant'. Before I knew it I was striding up towards the stage, fist clenched in a Tim Henman style, we'd done it, we'd actually won!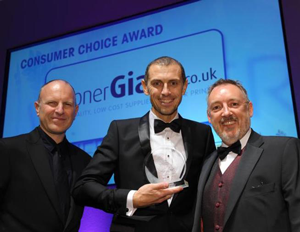 As I walked back to our table I could see the TonerGiant team standing, applauding. They're such a great team I thought. There was much hugging and back patting. I suddenly realised that I'd stomped up to collect the award without my wife and co-owner of the business Jo. To Jo's credit she didn't express any resentment but I knew I'd been a little thoughtless…
The night then seemed to fast forward at quite a pace. There was drinking, dancing and a little more drinking!
We arrived back at HQ in Manchester the following day at 3.30pm and it was great to see the whole team. We can only achieve success with a great team and I can honestly say that the TonerGiant team are, without doubt, the best team of people I have ever had the privilege to work with.
Tuesday 11th October 2011 will go down as a great day in the history of TonerGiant, but it's just one day.
In the world of online retail, we utilise a whole array of cutting edge technology and invest in software and systems to ensure efficiency. And these give us the infrastructure for success, but we know that to be truly successful we need to deliver good old fashioned service.
The 'Consumer Choice Award' was won because our customers voted for us, for that I am truly grateful.
I can promise that we won't get complacent, we'll keep improving and we'll continue to deliver a world class service…
Here is the full list of the award categories and winners:
Outstanding Contribution to e-Commerce: Brian McBride, former MD of Amazon UK
Online Gold Award (OLGA): ASOS
Best Multichannel Retailer: John Lewis
Best Large Online Retailer: ASOS
Best use of Online Content: Kiddicare
International e-Retail: ASOS
e-Commerce Site Innovation: PrismaStar Limited
Re-design/Re-launch of the Year: Charles Tyrwhitt LLP
Best e-commerce Marketing Agency: Further Search Marketing
Innovation in Delivery: Collect+
Best Customer Service: Lovehoney Ltd
Best e-Commerce Marketing Initiative: RS Components
Best Small Online Retailer: Party Delights Ltd
Best e-Commerce Payment Innovation: App55 Ltd
Best Use of Social Media: ASOS
Best m-Commerce Retailer: Jessops
Consumer Choice Award: Tonergiant.co.uk