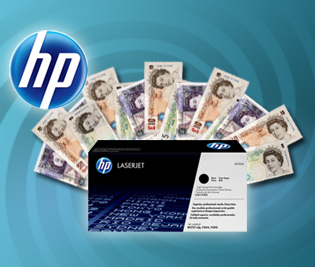 New toner cash back offer!
Earlier this year, HP introduced an all new promotion that offered great savings when you ordered original HP toner cartridges….and here's some great news, HP's Toner Cash Back promotion is back and back with a vengeance!
You can now claim up to, an astonishing, £190 cash back on selected toner bundles bought through TonerGiant.co.uk
Like previous promotions there are two different types of cash back to claim (See details below), which could save you money whether you buy toner for a HP Mono or a Colour LaserJet printer.
You'll have to hurry though; this offer expires on the 31st October 2011.
Qualifying HP Black Toner bundles
Offer 1 – Buy 3 of the same original HP Black toner cartridges and get up to £190 Cash back.
HP Q5942A3P – Q5942A Black Toner 3 Pack
HP Q5942X3P- Q5942X Black Toner 3 Pack
HP Q5942XD3P – Q5942XD Black Toner Twin Pack x 3
Qualifying HP Colour Laser Bundles
Offer 2 – Buy a full set of original HP Colour Laser toner cartridges and get up to £180 Cash back
How to claim:
To claim all you have to do is purchase any qualifying toner bundles and enter your details in the HP website. For full details and to claim your cash back visit HP's website here.
If you're running low on your supplies or you'd like to get yourself up to £190 cash back then this offer is not to be missed!