Buying Guide: Types of Printer
Since HP released the unforgivably slow ThinkJet in 1984, printers have become an indispensable asset to businesses, organisations and domestic computer users across the globe; offering all-in-one print, scan, fax and copy functionality in a single, easy-to-use unit. Today, there are literally hundreds of different printers on the market, making deciding which to buy nigh on impossible.
To help you find the printer that's perfect for your printing requirements, we look at four of the different printers available and provide useful advice on the things to consider before you buy.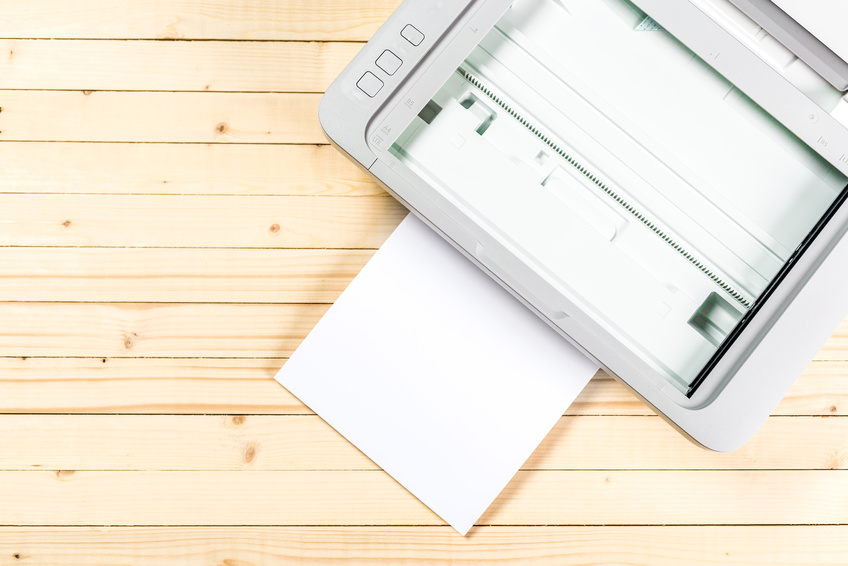 So – What Are Your Options?
Single Function Inkjet
Given their cheap initial purchase cost, dependable print quality and low-cost replacement cartridges, inkjet printers are a popular choice for home printer users. Inkjet printers use liquid ink in the print process; forcing thousands of tiny droplets of ink onto a page via a series of powerful jets. This process allows for accurate colour reproduction, as well as excellent image and text clarity depending on the sophistication of the machine.
Opt for a single function inkjet printer, and you can expect to pay as little as £30 for the printer itself and the same again per replacement cartridge. Inkjets suffer when it comes to output and overall page yield, so they're best for those who print no more than 150 text documents a month.
That said, invest in a powerful inkjet machine like the HP Officejet Pro X, and you'll enjoy performance, output and print quality that outstrip some laser machines. Leading inkjet printer manufacturers like HP, Brother and Epson have turned their attention to business users of late; developing powerful, inkjet machines that rival their laser counterparts in terms of overall performance and affordability.
Click here to visit our Inkjet Printer Buying Guide
Laser
Laser printers were developed to compete with inkjet printers in terms of speed and performance, and have since become the go-to printer for commercial print users thanks to their cost-effective output. Unlike inkjets, laser printers use a powdered substance called toner in the print process. This toner is heated and affixed to a page using an electrically charged drum within the printer itself, and this allows for fast, efficient printing.
Choose a single-function laser printer, and expect to pay upwards of £150 for a reliable machine and £50 – £100 per replacement cartridge. Though this might sound expensive, laser printers offer considerably more prints per cartridge than inkjet machines – making them an excellent choice for business users who print 500 – 1,500 prints each month.
Click here to visit our Laser Printer Buying Guide
All-in-one
As the name suggests, all-in-one (or multifunction) printers are capable of pretty much everything – including full-colour printing, copying, scanning and faxing. This all-in-one functionality makes these printers extremely practical for both business and domestic users, though you should expect to pay a lot more given the additional functions included.
Depending on the brand, all-in-one printers incorporate either laser or inkjet technology. For business users, we'd recommend a high-performance, all-in-one laser printer, whilst for home print users, an all-in-one inkjet should prove powerful enough for everyday printing requirements.
Solid Ink Printers
Produced only by a single company – Xerox – solid ink printers differ from inkjet and laser printers because they use solid ink, rather than liquid ink or powdered toner, in the print process. When a solid ink cartridge is loaded into the printer, it is melted and transferred to the paper via a printing head. Xerox, who remain the exclusive producer of solid ink printers, claim the technology delivers more vibrant colour than any other printer type, and also cite ease of use has a major benefit for domestic and business users.
Sadly, solid ink printers tend to be far more expensive than both their inkjet and laser counterparts, making them a hefty investment – particularly when you consider the cost of solid ink cartridges, too. However, they do have their advantages; solid ink printers produce excellent quality printouts, even when compared to the very best inkjet machine. Plus, they're considered among the most environmentally friendly printers money can buy – making them an excellent choice for the eco-conscious.
Click here to visit our Solid Ink Printer Guide
3D
Since they first emerged, 3D printers have made waves in the printer market, with some industry experts hailing them as the future of printer technology. If you're interested in purchasing a 3D printer, expect to pay a pretty penny for the privilege. As 3D printing technology is relatively new, prices have yet to fall to an affordable level inline with the budget of many domestic print users, though some businesses – particularly those in the design sector – may benefit from purchasing a 3D machine.
Things to Consider Before You Buy
To help you avoid the pitfalls of purchasing a new printer, here are some things to consider before you buy.
Does it have wireless technology?
Though most modern printers feature wireless connectivity, cheaper models are yet to make Wi-Fi connectivity an inclusive feature. If you think you'd benefit from wireless connectivity, read the additional features section carefully before you buy.
Is automatic duplexing allowed?
Duplex printing is the process of printing on both sides of a sheet of paper to reduce paper usage and save money on print overheads. Whilst most printers offer duplex as an option, some are capable of doing this automatically, which will help speed up the process.
What are the ongoing costs?
Like a car, printers have several ongoing costs that you should be aware of of prior to purchase. If you're interested in a particular printer, check the replacement cartridge cost, as well as any and all maintenance costs, before you buy.


How the humidity in your office can affect your printer
Faint Print? 5 Things that could be causing your printer problems
If you're on the market for a new business or home printer, Toner Giant can help you find the machine that's right for you. We stock a range of inkjet, laser and all-in-one printers that are suitable for a number of applications; click here to browse the range, call us today on 0845 365 3605 or fill in the contact form below for further information.
Contact Us