TonerGiant reviews
Updated 09/10/2019
Are you looking for Tonergiant reviews? Maybe you're curious about what genuine customers of TonerGiant.co.uk have to say about our service and you would like to check before you place an order online.
It's important to us to be transparent about the quality of our service and to us, delivering an exceptional level of service each time you shop with us at TonerGiant is something we work tirelessly to achieve.
We want you to choose us now and in the future for all your printer and office supply needs. That's why we love hearing from you so that we can find out how well we did.
Once you've placed an order with us, we will ask you for your honest opinion and feedback, both positive and negative. We love it when customers are happy with our service and leave positive feedback.
If we did something wrong and you were unhappy with our service, we'll do our best to ensure that it doesn't happen again and do everything we can to rectify it for you so that we can turn a negative review into a positive outcome.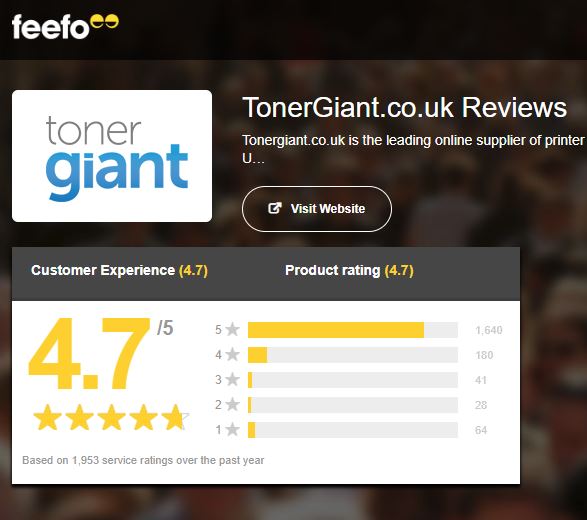 How do we collect our customer reviews?
We make it really easy for you to share your thoughts about us. After you've completed your order, you'll receive an email from independent review company Feefo on behalf of TonerGiant.

You'll be asked to rate both our products and our service as either 'Excellent', 'Good', 'Poor' or 'Bad'. You then have the opportunity to write a little bit about them, too.

This is then published on the Feefo website for other customers to read. Your review will be completely anonymous when it's been published, and only us here at TonerGiant will know who it is from.

Here's what more of our customers have to say about us:
The service was great from TonerGiant is always first class. Louise (customer care team) always makes us feel like TonerGiant's number one customer. This is why we keep coming back and they are our preferred choice. Nothing is ever a problem! Communication is always great, and we get a really personable service! They're just great!
My Company has purchased toner from TonerGiant for over four years. Their customer service and delivery promises can simply not be faulted. Friendly, efficient and at a great price. We will always deal with them, period!
I think generally the combination or service and price we received from TonerGiant has outstripped any other company we have tried.
Our promise to you
We will be honest and transparent at all times.
We're proud to say that the vast majority of our reviews are positive. However, it is inevitable that occasionally something will happen that might not leave you completely satisfied with our service.
For us, the most important thing is that you never lose confidence in us, our products or our service. So we reply openly to any negative review and promise to do our absolute upmost to make things right so that, ultimately, we turn any negative experience into a positive one.
And remember…
We've built our service around our customers and we're always looking for ways to make it even better.
Choose TonerGiant and enjoy our:
Free Next Business Day Delivery on orders placed before 5.30pm
120% Price Promise- if you find any of our products cheaper elsewhere, we'll refund you 100% of the difference and give you 20% off your next order with us
Recycling Programme- send your empty printer cartridges back to us and we'll ensure that not a single one goes into landfill
Hassle Free Returns Policy
Credit Accounts for Schools and Businesses