TonerGiant reviews
Updated 31/05/2019
Are you looking for Tonergiant reviews? Maybe you're curious about what genuine customers of TonerGiant.co.uk have to say about our service and you would like to check before you place an order online.
It's important to us to be transparent about the quality of our service and to us, delivering an exceptional level of service each time you shop with us at TonerGiant is something we work tirelessly to achieve.
We want you to choose us now and in the future for all your printer and office supply needs. That's why we love hearing from you so that we can find out how well we did.
Once you've placed an order with us, we will ask you for your honest opinion and feedback, both positive and negative. We love it when customers are happy with our service and leave positive feedback.
If we did something wrong and you were unhappy with our service, we'll do our best to ensure that it doesn't happen again and do everything we can to rectify it for you so that we can turn a negative review into a positive outcome.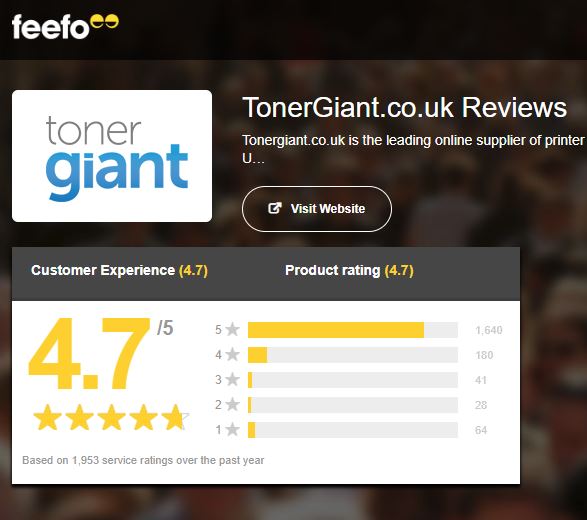 Where can you find TonerGiant reviews and are they genuine?
There are a number of review companies online where you can find TonerGiant reviews. The only one that we use officially to ask genuine customers to review us, is the feefo review website where we are a Gold rated company.
Unfortunately many other review websites allow anyone to leave a review whether they have ordered with us or not, and this can often cause disingenuous reviews.
When things go wrong
It's also understandable that sometimes, things go wrong or mistakes are made by customers. We'll always do our best to help customers if we can because every customer is important to us, but as hard as we try there will always be rare occasions when we can't do everything that someone asks us to and it's not always possible to please everyone.
This can often lead to irate negative reviews being left on the above mentioned review websites or social media. Many business experience similar things, especially it seems in the restaurant or hotel industries! Irrespective of where a review is left, we promise to always do our best to help where we can and be transparent / honest if the mistake was ours.
How do we collect our customer reviews?
We make it really easy for you to share your thoughts about us. After you've completed your order, you'll receive an email from independent review company Feefo on behalf of TonerGiant.
You'll be asked to rate both our products and our service as either 'Excellent', 'Good', 'Poor' or 'Bad'. You then have the opportunity to write a little bit about them, too.
This is then published on the Feefo website for other customers to read. Your review will be completely anonymous when it's been published, and only us here at TonerGiant will know who it is from.
Here are some examples of what our customers are saying about us on Feefo:

 An excellent company to do business with. Their prices are keen, their deliveries are super-fast, quality is top grade and communication above reproach. We are more than satisfied with this Company, its products and their service and would recommend them without reservation.

 Cannot fault the service or the price. Ordered late afternoon and order arrived the next morning. Everything spot on. I wouldn't consider going anywhere else.

 Good service- rec'd a faulty toner but was swapped straight away
We'd also be delighted to see your thoughts posted to our social media accounts:
 

— Les Howard (@LesVatadvice) September 29, 2014
@TonerGiant just received my order I placed Monday thank you excellent service with a competitive price

 

— Roy (@RoyBentham) June 25, 2014
@TonerGiant – great service as usual – carts ordered 2:30pm yesterday – arrived 8:15am today #win

 

— David McCarthy (@WEBright) June 18, 2014
Here's what some more of our customers have to say about us:
The service was great from TonerGiant is always first class. Louise (customer care team) always makes us feel like TonerGiant's number one customer. This is why we keep coming back and they are our preferred choice. Nothing is ever a problem! Communication is always great, and we get a really personable service! They're just great!
My Company has purchased toner from TonerGiant for over four years. Their customer service and delivery promises can simply not be faulted. Friendly, efficient and at a great price. We will always deal with them, period!
I think generally the combination or service and price we received from TonerGiant has outstripped any other company we have tried.
Our promise to you
We will be honest and transparent at all times.
We're proud to say that the vast majority of our reviews are positive. However, it is inevitable that occasionally something will happen that might not leave you completely satisfied with our service.
For us, the most important thing is that you never lose confidence in us, our products or our service. So we reply openly to any negative review and promise to do our absolute upmost to make things right so that, ultimately, we turn any negative experience into a positive one.
And remember…
We've built our service around our customers and we're always looking for ways to make it even better.
Choose TonerGiant and enjoy our:
Free Next Business Day Delivery on orders placed before 5.30pm
120% Price Promise- if you find any of our products cheaper elsewhere, we'll refund you 100% of the difference and give you 20% off your next order with us
Recycling Programme- send your empty printer cartridges back to us and we'll ensure that not a single one goes into landfill
Hassle Free Returns Policy
Credit Accounts for Schools and Businesses