Buying Guide: Printer Paper
Whatever would we do without paper? Books, newspapers, invoices, loo roll – never has a single material been so diverse, so useful and so invaluable.
Despite an astronomic rise in all things digital, paper is as indispensable a commodity as ever – particularly for those reliant on home or business printing. In fact, there are currently more paper variations than ever before, something that often makes buying the stuff rather difficult.
To help you decide which printer paper is right for you, we've put together this specialist buying guide, which includes information on different paper types and specialist features to consider before you buy.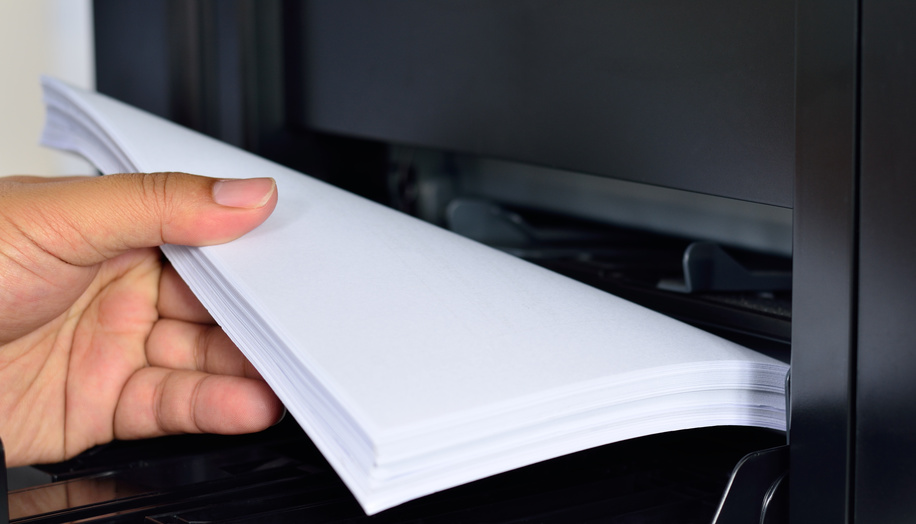 Paper Types
Matte Paper
The most commonly used printer paper; matte paper is characterised by its dull, lustreless coating and smooth surface finish. Thanks to the texture and absorbency of matte paper, ink dries quickly on its surface – reducing the risk of smears and blemishes.
Glossy Paper
Coated in a high-shine polymer, glossy printer papers produce rich, vibrant colour and impeccable detail – making them an excellent choice for printing sharp, full colour photographs. The downside to glossy paper is that ink tends to dry slowly on its surface, increasing the likelihood of smudges and smears.
Bright White Paper
Sure, standard copy paper is white, but it isn't as white as bright white paper. This specially developed paper features a non-textured surface and a brilliant white coating – making it perfect for professional, corporate use when you require more image and text definition.
Copier & Laser Printer Paper
Copier paper is the most commonly used type of printer paper; the stuff you purchase in large packs and stockpile beside your printer. It's thin, lightweight and 75% opaque, and often has a matte coating for faster drying times.
Inkjet Paper
You guessed it – inkjet paper is specially designed for use with inkjet printers. In truth, the term is rather broad, and can be applied to any paper capable of running through an inkjet machine – including photo paper, glossy paper and business card paper.
Listing Paper
Designed for use with dot-matrix, line printers and other machines with the appropriate paper-feed mechanism; listing paper is a continuous ream of sheets connected by a perforated seam. Given that the paper can be continuously fed, it's ideal for business use when speed and performance are key.
Photo Paper
In essence, photo paper is just another type of glossy paper – albeit, with a few subtle differences. Photo paper is usually glossy on one side only, and has a much higher weight than other glossy papers. It's often brighter too, enabling sharper image definition.
Paper Features
Coating
Whilst some printer papers are left raw and uncoated, others are coated in a special polymer layer – which is used to give the material its specific properties. Depending on your specific printing project, you'll need to choose the coated printer paper that's right for you – whether that be glossy, smooth or matte.
Brightness
Printer papers vary greatly in terms of brightness. Typically, paper brightness is measured on a 0-100 scale – with 80-100 being the ballpark for a premium quality paper. Generally, the brighter the paper, the better a print will look – no matter what type of printer you use.
Weight
Paper thickness is measured in weight – more specifically, in grams. Whilst a standard copy sheet will weigh around 75 grams, mid-weight card or poster paper can weigh anywhere from 90 grams to 150 grams. Remember – the higher the weight, the thicker the paper.
Opacity
Another important consideration when purchasing printer paper is its opacity. Opacity is measured on a 0-100 scale, with 0 being translucent and 100 being opaque. Often, the heavier the paper, the more opaque it will be.
If you enjoyed this buying guide, be sure to check out the rest of the Toner Giant blog. Or, if you're interesting in purchasing cheap printer paper directly from us, visit our dedicated printer paper page, or call us on 0845 365 3605.
Contact Us