Lexmark 5400 Ink Cartridges
This all-in-one printer combines printing, scanning and fax in one – ideal for those working from home with a small business more so than a typical home printer. TonerGiant offers a wide range of compatible and branded ink cartridges for use in this printer, so you need look no further than the products below for all your cheap ink cartridge needs. Take advantage of our next day delivery service, if your order is placed before 5.30pm, to ensure your printing needs are never disrupted.
A.
Hi we don't actually sell the Lexmark 5400 printer any longer as it's no longer available (Lexmark no longer sells inkjet printers).
1
Ink Cartridges for the Lexmark 5400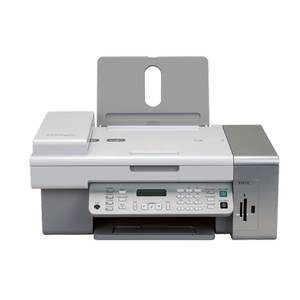 Our high quality range of cheap ink cartridges are available in two types – compatible and branded. The compatible range is created by TonerGiant, these ink cartridges are guaranteed to fit your Lexmark 5400 printer but are available at a much lower price than a genuine Lexmark replacement ink cartridge. Our 120% price promise means that if you find OEM ink cartridges at a lower price, seven days after purchase, we will refund you 100% of the difference, plus an extra 20%, so you are guaranteed to enjoy lower prices buying from TonerGiant.
Advantages & Features of the Lexmark 5400
The Lexmark 5400 printer is an all-in-one model, ideal for those looking for a high functioning, multi use machine to save space and time. This printer prints exceptionally high quality photographs, and can also cope with various paper sizes including banner paper, greeting cards and postcards. There are various print quality options on this model, to ensure you always enjoy the best result and the intuitive buttons and display screen allow you to make choices without clicking a mouse.
How long will the ink cartridges last?
Caring for your printer, cartridges and how often you print are the biggest determining factors when it comes to ink cartridges, it's also worth bearing in mind that certain colours will run low faster than others. Our compatible range are guaranteed to work just as well as original Lexmark ink cartridges, offering a duty cycle of 475 pages for black printing and 450 pages of colour. We even offer a guarantee on your printer warranty when using these for peace of mind and a three year guarantee on the cartridges themselves.