HP 1050 Fax Ink Cartridges
This swift and accurate HP fax printer is one of the more reliable fax machines on the market. To keep the HP 1050 in good working order you need to use the right ink for your printer. Toner Giant stocks HPís original ink cartridges for the HP 1050 Fax printer. You wonít find the cheaper anywhere else on the market with our 120% price promise!
Be the first to ask a question about these products. Click 'Ask a Question' above to submit your query and we will answer it as soon as possible.
0
Ink Cartridges for the HP 1050 Fax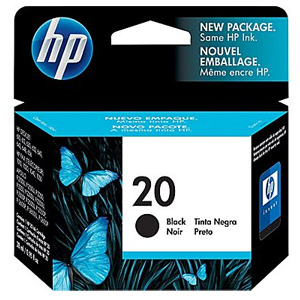 Youíll only need the one ink cartridge for your trusty HP 1050 Fax Printer and TonerGiant has just the one you need. The HP No. 20 Black Inkjet Print Cartridge of 28ml will work perfectly with your fax printer and enable to it keep print high quality and sharp documents. Itís worth noting that our ink cartridges also come with a 120% price promise, which means should you find the same product for a lower price elsewhere we will refund you the difference plus an extra 20% to put towards your next purchase on the TonerGiant site.
Advantages & Features of the HP 1050 Fax inkjet printer
The HP 1050 Fax printer will deliver faxes that are crisp and clear to your machine and those you are faxing to. This fax machine also has a low price per page cost because of the HP C6614D ink and the power saving technology of the printer. It also comes with full telephony features, offering you more options when it comes to communication.
How long will the HP ink cartridges last?
The HP No.20 Black Inkjet Print Cartridge for the HP1050 Fax printer should print you up to 455 pages. If youíre running low why not take advantage of our free and fast next working day delivery, just order before 5.30pm and youíll get your ink cartridges the next working day.