From manned production lines to fully automated factories chock-a-block with state-of-the-art robots, car production has a long history of near-constant innovation. And now it seems the future of car production could be about to change yet again thanks to the tech behemoth that is, 3D printing.

That's right, in just a few years time, you could be driving around in a car whose parts have all been made by a 3D printer. While this might sound like something from the pages of a sci-fi novel, the reality is that several fully operational vehicles have already been constructed using a 3D printer — so it's no longer a case of fiction vs. reality.
In 2015 The Telegraph reported on the world's first commercially available 3D printed car, the Strati. Developed by Arizona-based technology company, Local Motors, the Strati is made from 75% 3D printed parts, including its body panels and chassis. Currently the car is undergoing rigorous safety testing, but Local Motors say it will be available to pre-order from 2016 for a cool £35K.
The most impressive and pioneering aspect of the Strati is the fact that its body panels can be redesigned and reconfigured at the touch of a button, so no two cars need look the same depending on the specification. The body panels simply attach on to the chassis, so they can be customised any which way without completely overhauling the mechanics of the design. This gives scope for complete customisation and individuality, something current car buying trends show to be of great importance to modern motorists.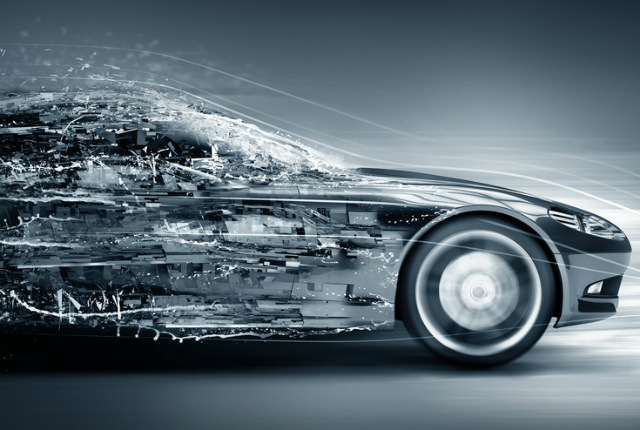 In a statement to The Telegraph, Local Motors said they hope to develop a car which incorporates 90% 3D parts in the future, including specific components in the engine bay. This could have a massive impact on the car industry, as larger firms look to capitalise on the benefits afforded by 3D manufacturing (faster production times, cheaper component parts, streamlined processes).
But just how did Local Motors go about producing a 3D printed car? As demonstrated in our recent infographic on 3D printing famous landmarks, current 3D printers aren't cheap or fast to run, so mass-producing cars for general sale would be nigh on impossible — right?
To create the world's first 3D printed car, Local Motors did away with off-the-shelf 3D printers and decided to build their own version. They took the technology of Big Area Additive Manufacturing (BAM) machines, and combined it with incredibly complex subtractive manufacturing methods. The result? A colossal 3D printer that's big and powerful enough to print large objects (like cars) on a vast scale.
This breakthrough marks an exciting turning point in the development of 3D printing, and car manufacturing more generally. As other car manufacturers look to save money, and the planet, we could well see 3D printed cars on UK roads in the coming years.
If you enjoyed this article and would like to read more like it, don't forget to check out the rest of the TonerGiant blog for more printer related news and insight.
Alternatively, if you came to buy cheap inkjet or laser cartridges, or a new printer, visit the TonerGiant homepage or call us on 0845 365 3605.