Often when people say the words "new year, new me", they're talking about landing a new job. At the start of a new year, getting a new job can be an excellent way to vanquish the January blues — particularly if your current role is underpaid, underwhelming or just bringing you down.
If you're currently undertaking the painstaking process of finding a new job, crafting a killer CV could mean the difference between bagging an interview and being left out in the cold. Here we provide five simple ways to create a CV that actually works.
1. Understand the Basics
While non-traditional CVs prove successful in some sectors, employers generally want to see the basics: personal information and contact details; education and qualifications; work history and experience; interests, hobbies and achievements; and a couple of references. Fail to nail these basic areas, and your CV is likely to flop no matter how many fancy fonts and colours you throw at it.
2. Formatting and Presentation is Key
When an employer picks up your CV, they'll make massive judgements and assumptions based on its presentation and appearance — even if it's just an email attachment. CVs should always be clear, concise and easy to read, with no unnecessary clutter, graphics or coloured elements. If you choose to print your CV, do so on premium quality brilliant white paper and post in an A4 envelope. Use a clear, standard font and format with bold headings to give the document a professional look. And remember — a CV's hotspot is the upper middle area of the page, so make sure to really sell yourself here.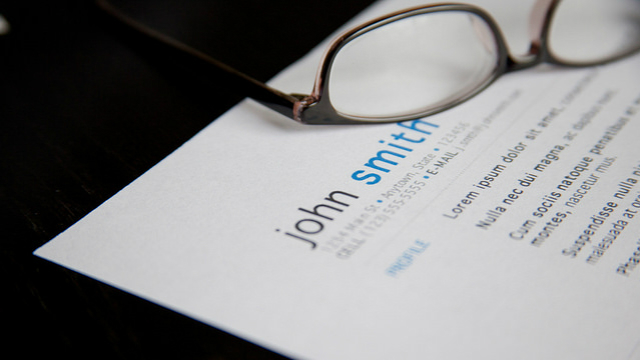 3. Make Sure It's No More than 2 Pages Long
Ask any manager about the recruitment process, and they'll likely let out a long, pained sigh. Going through CV after CV after CV is an arduous, painstaking task, and even the most driven MD is likely to lose the will by the end of it. That's why, it's important to keep your CV short, sweet and to the point. While it can be tempting to sell yourself over 5 or 6 pages, any CV longer than two pages will find itself on the recycling bin long before it reaches the 'maybe' pile.
4. Tailor it to the Role
A generic CV might be OK for 16 year olds looking for a weekend job, but in the real world of work you need to tailor it for each position for which you apply. To do this, read the job description carefully and pay attention to the person criteria. As you write your CV for that particular role, you should be looking to cover most of their requirements in your personal statement, list of skills or experience breakdown.
5. Sell Yourself Every Step of the Way
From start to finish, your CV should be a persuasive sales tool that grabs the interest of the employer in question. For the two or so minutes they spend going through your CV, you're essentially pitching yourself like a salesman — so use all that real estate wisely. Even in the personal interests and hobbies section, there are ways to sell yourself without coming across as too needy. Sure, tell them about yourself, but omit solitary hobbies that could paint you as a reclusive introvert — instead talking about hobbies that demonstrate your skills and motivation. In short — make yourself sound like an interesting, fun and stimulating person to have around.
Ready to write that role-winning CV? First you'll need a printer, paper and ink. At TonerGiant, we stock a range of affordable printers and consumables, including cheap replacement cartridges and premium quality papers. To browse our range of products, visit the TonerGiant homepage or call us on 0845 365 3605.
Image credits: Flazingo Photos, Fabrizio Morroia