In case you hadn't noticed, we're rather fond of the environment here at TonerGiant — so much so, in fact, that we have a whole section on our blog dedicated to recycling and green printing practices. We also operate our own cartridge recycling scheme, which gives our customers an easy way to keep their empty ink and toner from ending up on a landfill site — where they cause untold misery to the natural world for hundreds of years. Not good.
But after you've sent us your empties, what becomes of them? To shed a little light on the subject, we're here to explain what exactly we do with your empty print cartridges.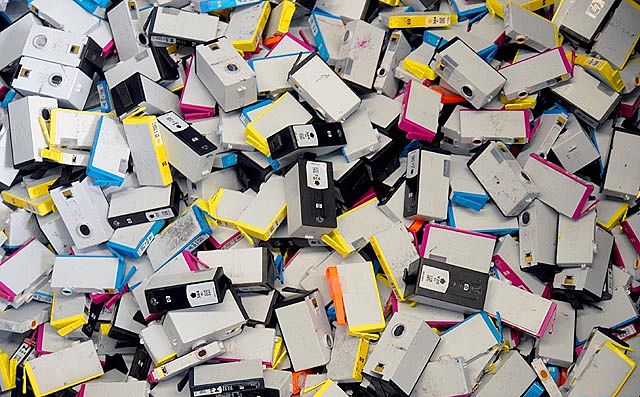 What Happens to Your Empty Printer Cartridges?  
Once you've posted your empty cartridges to us (you'll find instructions on how to do this, here) they're rounded up and carefully inspected ready for sorting. Thanks to our zero landfill policy, we guarantee that none of the cartridges we receive end up in landfill sites. Instead, they're sorted into two groups — one for remanufacturing and one for recycling.
Remanufactured Cartridges
If we think your cartridges are in a reusable condition — as in, they aren't damaged or impaired in anyway — we'll send them to be converted into remanufactured cartridges. Remanufactured cartridges are essentially old printer cartridges which are carefully stripped down, inspected and restored, before being filled with ink and toner and stringently tested to ensure their quality — which meets ISO printing standards. They're then packaged and sealed in antistatic protective bags and resold on the market. And to think, they could have been rotting on the trash pile!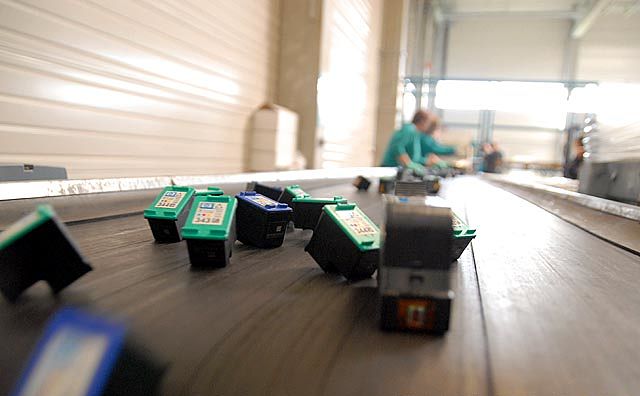 Cartridges that Can't be Remanufactured
If, for whatever reason, your empty cartridges lack the attributes that would make them a usable remanufactured unit — they're sent to a specialist waste handling unit, where they're stripped of any usable component parts before being crushed. This plastic is then processed in a special facility, before being recycled in the production of new plastic products like ballpoint pens. If there's any toner present in the cartridges, this is removed before the unit is crushed, and subsequently incinerated to create energy.
So, like we said — not a single component from your empty print cartridges goes to landfill, and that's a promise. To guarantee it, we work closely with The Recycling Factory, who are specialists in recycling empty ink and toner cartridges. The organisation has received certification from a number of environmental organisations, including SEDEX Information, the Forest Stewardship Council (FSC) and the British Retail Consortium — making them one of the leading names in the reprocessing of used printing products.
If you're interested in recycling your empty printer cartridges with us, the process couldn't be easier. Simply visit our dedicated recycling page, download the box label using the link provided, and follow the steps in the two instructional videos. Here, you'll also find more information on the recycling process, as well as the environmental benefits which come with sending your empties to us.
And once you've done that, why not visit our homepage, where you'll find a complete range of printers and replacement cartridges at value-for-money prices.
For more information, call the TonerGiant team today on 0845 365 3605.
Images sourced via Flickr Creative Commons. Credit: innovate360