Whether you're getting a new printer for Christmas (in which case, lucky you) or just want to find out how to better maintain your current machine, this guide on how to take care of your printer should serve you well.
From cleaning to troubleshooting, our ultimate printer maintenance guide contains all sorts of tips and advice on looking after your personal or business printer. So without further ado, let's get to work.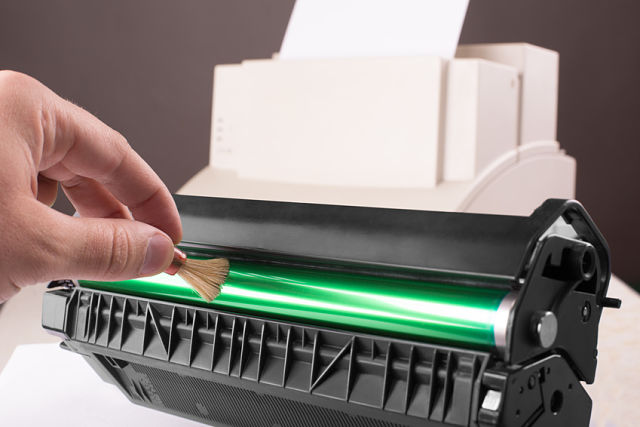 Cleaning  
As a rule, home inkjet and laser printers should be properly cleaned and maintained every 6 months depending on their individual usage, while workhorse business printers may need cleaning more regularly if they're used and abused every day.
Sadly, most people never bother to clean their printer, something which can result in a drop in print quality and eventually, the premature demise of the machine itself. Telltale signs to look out for to determine whether your printer needs cleaning include smudges, streaks and imperfections on a document, as well as visual signs such as gunk and debris on the inside of the printer itself.
If you think your printer could do with a good clean, we have two separate step-by-step guides on our blog — one for cleaning inkjet printers, and the other for cleaning laser. You can access both of these guides below:
How to Clean Your Laser Printer in 5 Easy Steps
How to Clean Your Inkjet Printer in 6 Easy Steps
Maintenance 
While we'd encourage you to take your printer to a professional print specialist for any maintenance requirements, there are a few jobs you can do at home with the right tools and equipment.
Remember though, that if you ever feel out of your depth digging about in your printer's innards, professional help is never far away. Across the UK there are hundreds of printer specialists who can fix, repair or maintain your machine for a relatively low price — meaning you don't have to risk ruining your printer for the sake of a few quid.
Some of the easier maintenance tasks you can do yourself include adjusting the cartridge alignment (inkjet printers only) as well as updating the actual drivers your printer requires to connect to different devices. Even for the least tech-savvy, both of these tasks are relatively straightforward; just follow the instructions in your printer's manual, and you'll be back up and running in no time.
 
Troubleshooting & Further Tips
Like all technologies, sometimes printers break down, pack up or develop weird quirks that are difficult to sort out and put right. Before you take the printer to a repair shop, it may be possible to troubleshoot the problem yourself — ensuring you don't shell out cash unnecessarily.
Here, we'll highlight some of the problems that could befall your machine, and provide a few brief tips on how to fix the issue.
Slow Print Speed: Slow printing speeds can be frustrating, especially in a busy work environment. While there are several reasons why your printer could be slowing down, there is a way to speed things up — lower the resolution of your prints. This can be done easily in the printer's settings, and should help to speed up your print performance.
Connection Problems: There's no doubt that wireless printers have revolutionised the way we print, making it possible to send documents to the machine from anywhere on any device. But, if for whatever reason your device is unable connect to the printer, you can quickly find yourself unable to print. If this is the case, check that the printer is in pairing mode and try to reconnect to the network.
Poor Print Quality: If you've recently replaced your cartridges, only to experience poor quality prints, this could indicate a clog in the print head — something which is easy to fix yourself at home. Start by using your printer's cleaning function, which will spray ink through the jets to try and clear the blockage. If that doesn't work, try heating the cartridge gently with a hair dryer. This should melt the hard ink inside, thus removing the blockage when you next hit print.
For more printer troubleshooting tips, check out our blog on the world's most annoying printing problems and how to solve them.
Alternatively, if you're interesting in purchasing printers or cartridges from TonerGiant, visit our website, here, or call our award-winning customer care team now on 0845 365 3605.