While the term "blink and you'll miss it" doesn't really ring true in the 21st century, it's the only turn of phrase we could think of to illustrate the pace at which three-dimensional printing is currently developing. Google '3D printing' on consecutive days, and you'll be met with a whole new set of search results from one day to the next — as more and more tech firms share their latest improvements and developments of the technology.
One such development that looks set to make waves in the 3D printing world is the latest breakthrough from MIT's Computer Science and Artificial Intelligence Laboratory. Recognising the need for more functionality from 3D printed designs, researchers at MIT have put all their energy into developing a 3D printer capable of simultaneously printing over ten different materials at any given time — a feat which has thus far eluded other 3D printer developers.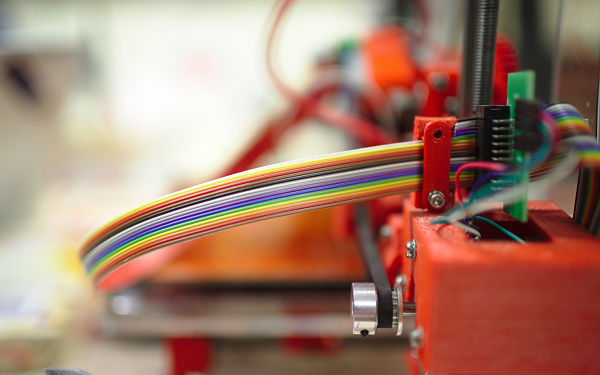 While existing 3D printers have been restricted to printing just one material at a time, the new printer, which has been dubbed the MultiFab, is capable of printing wood, metal, plastic and ceramic structures, which come together into a single, multi-faceted 3D model. The MultiFab is the focus of a detailed research paper released by MIT, aptly named MultiFab: A Machine Vision Assisted Platform for Multi-Material 3D Printing.
Javier Ramos, co-author of the paper and research engineer, explains: "With MultiFab, we integrate these two worlds of traditional manufacturing with 3D printing, and by putting them together, we can make a whole range of new objects that we are not currently able to make today.
"Right now, 3D printers are focused on printing form and objects for prototype, but the Holy Grail would be to print out things that are fully functional right out of the printer, combining multiple materials with many properties."
The beauty of the MultiFab prototype 3D printer is that it allows different materials to be integrated together for the first-time, something which Ramos and the other MIT researchers believe could lead to major new developments in the manufacturing and retail sector.
He said: "We're going to have to change the way us engineers and designers think about design. Picture someone who sells electric wine-openers, but doesn't have $7,000 to buy a printer like this. In the future they could walk into a FedEx with a design and print out batches of their finished product at a reasonable price. For me, a practical use like that would be the ultimate dream."
Despite being at the earliest stages of development, the MultiFab has showcased the boundless possibilities of 3D printing — allowing highly complex, multi-component designs to be built in full 3D form for the first time.
If you enjoyed reading this article, why not check out the rest of the TonerGiant blog for the latest news and developments from the world of two and three-dimensional printing. Alternatively, if you're interested in purchasing printers or replacement cartridges direct from us, click here to visit our homepage or call us on 0845 365 3605.
Images sourced via Flickr Creative Commons. Credit: Dennis van Zuijlekom.