Search for printer related news on any search engine, and you'll be greeted with page after page of information and insight into the world's most desirable new gadget, the 3D printer.
Belying its relatively short lifespan, the 3D printer has shot to global prominence thanks to the exploits of a handful of creative start-ups, who have continuously pushed the boundaries of what the tech is capable of. From toys to clothing, guns to healthcare; the 3D printer has thus far been used to create all manner of wholly convincing three-dimensional objects, and enthusiasts believe this is just the tip of the iceberg in terms of what the technology could produce in the future.
Naturally, the unprecedented rise in popularity of the 3D printer hasn't escaped the eyes and ears of the world's most progressive and forward-thinking businesses. Early adopters have already put the technology to use — streamlining their individual manufacturing processes, speeding up production times and ultimately gaining ground on their competitors.
But what are the other benefits of incorporating 3D printing technology into your business? And more importantly — should you buy one?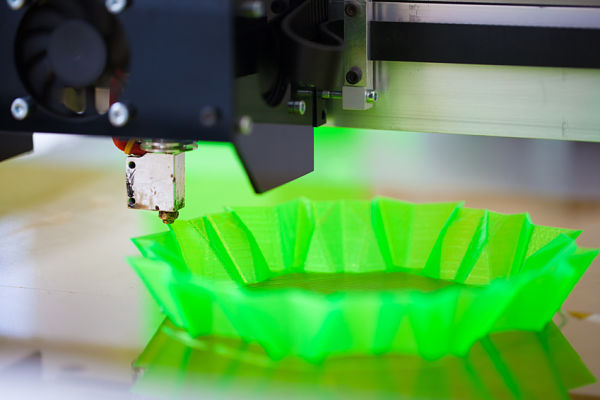 Price — Is a 3D Printer Feasible?
Think of a 3D printer, and you might picture a colossal, ultra-complex machine with an equally-as-imposing price tag. The truth is, since 3D printers were developed, initial purchase prices have fallen dramatically — and so too has the machine's physical footprint.
Now, even the smallest of start-up enterprises will find it affordable to set aside some capital and invest in a 3D printer — especially when they consider the boost in productivity that such technology could bring to their business. 3D printers allow the user to create products, prototypes and provisional design ideas in minutes — making it a truly dynamic tool to have around the office.
So in answer to the question 'is a 3D printer feasible?' — yes, reduced purchase costs ensure the tech is accessible to even the smallest of businesses and organisations.
Usage — Is a 3D Printer Compatible with Your Industry?
It goes without saying that 3D printing technology is better suited to some industries than others, and some organisations will see little advantage in investing in the technology. That said 3D printing has far outgrown its expected usage, and is now used across a broad spectrum of different industries — from construction to fashion design.
In particular, 3D printing lends itself perfectly to the manufacturing sector, be it engineering, automotive or consumer-based product design. By using a 3D printer to create their products, companies are in a position to scale their output to meet demand — not to mention save hundreds in the cost of materials, storage, equipment, shipment and workforce outlay.
If your business relies on design and manufacturing, 3D printing could not only help to streamline your processes — but save money, time and hassle too.  
Reliability — Should Your Business Rely on 3D Printing Everyday?
Since 3D printing first came to fruition, hundreds of different models and variations of the technology have been released — some of which have been more successful than others. Now that 3D printers are widely available to the general population however, the additive printing process has gone from been an unknown entity to a reliable, consistent process which users can rely on everyday.
In the same way that other manufacturing processes were viewed with scepticism when they first emerged; 3D printing is still treated with distrust by many in the manufacturing and technology sector. But as more and more companies incorporate the technology into their business, we think it's about time organisations put aside their cynicism and embraced the new technology.
After all, 3D printing doesn't have to replace all of your current processes; it can simply be incorporated into the early stages of product development to help you create prototypes and models before going to the manufacturing stage.
So, will your business be buying a 3D printer? If you'll be sticking to your good old 2D model for the time being, at least save yourself some cash by buying replacement ink and toner cartridges from us. We supply original and compatible cartridges for a range of printer manufacturers — helping you save money on your on-going print costs. To find out more visit the Toner Giant website or call us on 0845 365 3605.