There are never enough hours in the day to do the things we want to do, but ordering ink & toner cartridges doesn't need to be one of them! We've listened to the needs of our customers and are in continual development to deliver new and innovative ways to make your day that much easier.
Introducing our newest feature on TonerGiant.co.uk, packed with features to help make quicker, easier and more informed purchasing choices.
This new feature can be found at the bottom of every page and can be activated by pressing the up arrow icon or one of the three tabs to the left of the Grey bar.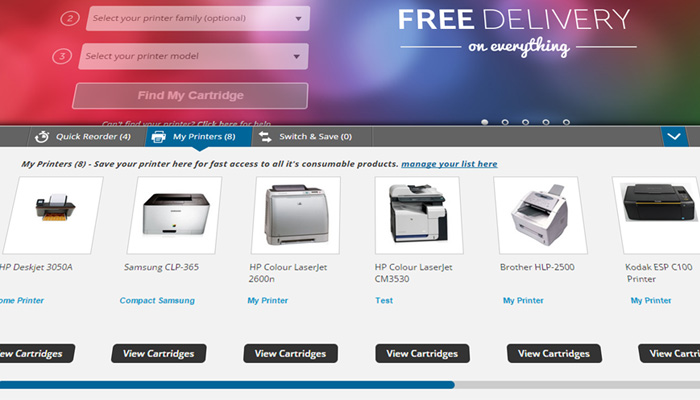 An overview of what you can expect:
Quick Reorder:
Here you will be able to see products you've ordered before. Many of our customers return to us for our excellent after sale care and super-fast free delivery, these customers tend to order the same printer supplies again and again. That's why we've made it even simpler for you to see the products you've ordered before from anywhere on the website. I'm sure you'll agree this will save a huge amount of valuable time, allowing you to get on with more important things.
My Printers:
If you have more than one printer in your home or office, then this next feature is perfect for you. From this tab you can save the printers you own, allowing you to quickly access all the products for that particular printer in a single click. You can give each printer a nickname to help you remember what it's for or where it is, and store as many as you like. This is a really quick way of getting to all the products specific to you and once their saved there's never any reason to run around noting down printer models again!
Switch & Save:
There's only one thing we like more than saving you time, and that's saving you money! The switch and save feature shows you the savings that could be made if you bought our high quality compatible cartridges. It breaks down the individual original products you've ordered in the past and presents you with the cost saving alternative. There's also a summary, detailing the total spend to date and how much your potential saving could be if you had made the switch. The larger the indicated saving is the more consideration should be given to switching.
For more information on our compatible cartridges click here.
We are always here to listen and help make your buying experience an enjoyable one, if you have any questions or suggestions that could improve our service please use the comments box at the bottom of this page or call 0845 365 3605
Visit homepage & see new feature here