At the end of 2014, Epson announced that it was to launch a range of new printers with refillable ink cartridges. As these reports in the Guardian and the Daily Mail speculate, is this new technology about to completely to change the printer industry?
First, let's address the elephant in the room here. I know what you're thinking- "of course a blog post on a website that sells ink and toner cartridges will stick up for the traditional printers that take traditional cartridges." Phew, that's cut the tension!
The truth is we do actually see some potential in these printers and think that some people will be convinced to ditch their current printer for one of these. However, we also believe that there are lots of things to consider first before you rush out to get one.
Below we've outlined a few points that outline why we think the technology isn't about to completely overhaul the industry. However, as you'll see, we also look at some of the potential benefits, as well.

Cost of printer may put some people off
Refillable ink printers come with a completely different pricing model to regular inkjet printers.
Perhaps you've noticed that some inkjets can be bought for as little as £30? Essentially with this model, manufacturers make their money with the price of their consumables for your printer. However, refillable printers will cost considerably more to buy (Epson's two current models are priced between £249.99 and £329.99), with the benefit that you won't have to refill it as frequently, and thus saving money in the long term.
However, for many consumers, that price will just be too steep. It's not hard to envisage many average home printer users seeing these two printers on the shelf in the shop at the different prices and simply choosing the one that is immediately much cheaper.
Has the potential to be cheaper than a laser printer- but there are still things to consider
Laser printers are generally favoured by businesses that print a lot more day to day than the average home user. But, as the Guardian point out, "households with high printing needs would also want to consider switching to laser printers which are more expensive to buy but whose per-page printing costs are much lower."
In this article from 2013 comparing the cost effectiveness of traditional inkjets with laser printers, it states:
"Hewlett Packard manufactures more than half of the printers sold in the UK. Its bestselling HP Deskjet 3050A inkjet retails for about £90. The cartridges sell for £10-£15 and have a standard page yield of 190 (black) and 165 (colour).
The company's top-selling HP CP2025 colour LaserJet sells for about £300. Cartridges retail for about £110 and have a page yield of 2,800 (colour) and 3,500 (black).
Cursory number-crunching indicates that if you print only, say, 1,000 pages a year – based on ISO standard 5% paper coverage – then the inkjet, at about 5p per page, is better value
But for anyone who prints more than 2,000 pages a year, a laser printer, at about 3p per page, is cheaper."
So to box this off, if you're a home user that's printing a lot, a laser works out cheaper than an inkjet.
But what about laser versus refillable printer? Well this is where things get a little tricky.
To all intents and purposes, these new printers do appear to make a strong claim to suggest that they are indeed cheaper in the long-run. However, the amount of pages you can print with each ink bottle may not be quite as efficient as it first seems.
Let me explain. The page yield/duty cycles that you see next to the consumables we sell are all based on that ISO standard 5% page coverage, which is what most of the page yields you'll come across are based on. To give you a better understanding of what this is, we covered this topic in our post '5% Page Coverage- What Does This Actually Mean?'
So if we take Epson, their AcuLaser CX17NF MFP Colour Laser Printer costs £282.05 to purchase on our website, whilst their new EcoTank L555 refillable printer costs more at £329.99. But that's to be expected; after all, that's the business model of the new technology.
However, one genuine Epson black high capacity toner cartridge for one of their AcuLaser CX17NF MFP Colour Laser printers costs on our site £57.38 and has a yield of 2000 pages based on 5% coverage. On the other hand, one genuine Epson black ink bottle for the EcoTank L555 costs just £7.99 and, according to Epson, can print 4,000 pages.
(All prices accurate at the time of publishing).
With those figures, it's a no-brainer. Although the refillable printer initially costs £47.94 more to buy, you'll save £49.39 each time you come to buy new consumables.
But will that refillable ink actually last you longer than the toner cartridge?
If you look at the Epson website, it's not definitively clear whether that quoted 4000 page yield is based on a 5% page coverage. Instead it states that it's based on quoted yields that are "extrapolated based on Epson original methodology from the print simulation of Test Patterns provided in ISO/IEC 24712."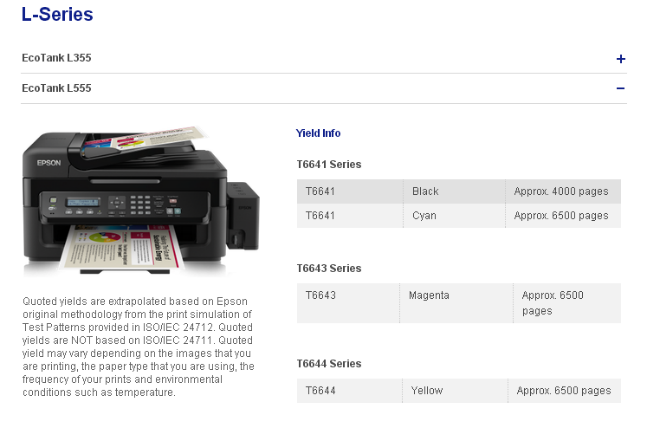 In short then, we don't know for sure whether the refillable ink bottle yield is also based on a 5% page yield. Although yes, even if it does print less than the stated 4000, it would appear that you can still make a saving over the laser toner cartridge.
Before you or your business goes rushing to buy a refillable ink printer to replace your fleet of laser printers, however, you should also consider some other key factors.
The print quality given by toner is genuinely considered to be better than that produced by ink
Laser printers are considerably faster and more efficient; in the two printers in the example previously used, the laser printer can print 35 pages per minute in black and white, compared to just nine pages per minute with the refillable L555.
This, then, brings me onto the next point…
Many businesses will still prefer laser printers
As mentioned above, the quality of print from a toner cartridge is usually vastly superior. Laser printers will draw black text precisely, and is just as adept with colour, too. Although toner struggles to print big photographs as nicely as you'd like, it's certainly the best to handle the kind of printing the average office does each day, i.e. text and graphics in emails, Word documents, Excel documents etc.
Again, they can print a lot more pages per minute than printers that use ink, and they can also handle lots of printing much better with larger paper input trays.
Furthermore, laser printers will produce the best prints on regular, office paper. Printer ink can sometimes appear fuzzy or grainy on this type of surface.
But these refillable printers probably aren't aimed at business customers anyway. Which brings us to home users…
Other alternatives for home users
As we've said, those printing high volumes at home should consider a laser printer. Similarly, though, they should also consider purchasing a refillable ink printer!
Our findings earlier suggest that purchasing new refillable ink could save you money each time, whilst the ink may also be able to print better quality photographs than toner would, if you print a lot of photos. However, those ink prints will be a lot slower than a laser printer, whilst the quality won't be as good for every day text and graphic printing.
If printing photographs is important, another alternative available is a solid ink printer. This technology is favoured by many graphic designers and professionals that need the best colour definition and quality. We wrote a post in 2014 where you can find out everything you need to know about solid ink.
And for the average home user that prints small jobs infrequently, switching to compatible cartridges can help you to save significant amounts compared to buying original manufacturer ink cartridges. (You can check out our page about our own TonerGiant brand cartridges, which includes a video showing you where and how they're made). It's also worth considering that refillable ink printers are likely to suffer the same problems with dry ink in print heads when they're not used often enough that you get with traditional inkjet printers, too. So for low-level, infrequent home printing, a cheap inkjet printer with own brand compatible ink cartridges might be the smartest option.
Refillable ink printers do have environmental benefits
Printer cartridges are a serious environmental problem. As you'll see from our post and infographic highlighting this, 350 million cartridges are thrown away each year, creating huge problems due to the amount of time they take to decompose.
So these new refillable ink printers, without the need for cartridges, are definitely a good environmental choice.
However, many printer cartridge suppliers operate recycling progammes (like ours) that will take your empty cartridges and ensure that not a single one goes to landfill. These are then used to make new cartridges, as well as to create new energy.
In summary
Here are what I believe to be the pros and cons of these new refillable ink printers: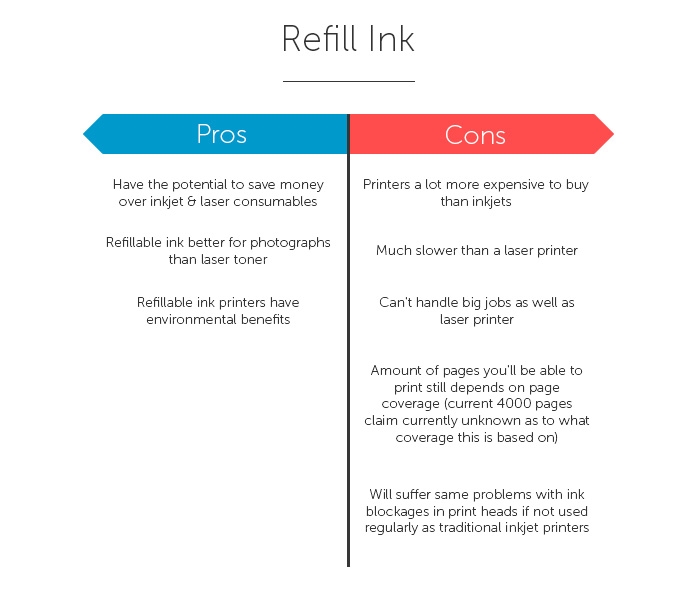 Are they the right choice for you? Well I believe that it if you are:
A business user- you're best off with a laser printer
A home user that prints infrequently- an inkjet printer with own brand compatible cartridges will be cost effective and ideal for your needs.
A home user that prints lots- then refillable ink prints are certainly a consideration. But for speed and quality, it might actually be worth you moving to a laser printer.
So then, will this new technology be a success?
Of course it's difficult to forecast, but the chances are that these refillable ink printers in their current form aren't likely to completely revolutionise the printer industry.
However, they do certainly have their place alongside traditional printer technology, which is probably why brands like Epson aren't using them to replace their current inkjet lineup.
Business customers probably won't be buying these in their droves, but then these printers aren't necessarily aimed at them.
For the home user that prints infrequently, the price of the machine means that it'll be hard to convince them to fork out £300 when there are inkjet models available for £30.
There is certainly potential for refillable ink printers to attract those home users that do print lot.
But because there are so many alternative options for consumers, with certain printers more suited to certain individuals than others, that it's more likely that the refillable ink printer will just compete with the established printers in the market, rather than knocking them both out of it.
Below you will find some more helpful resources. But I'd love to hear your thoughts about these new refillable ink printers. Will you be getting one? Leave a comment below or reach out to us on our Facebook and Twitter pages.