We've all had one of those moments where we've stained one of our most treasured items of clothing.
That initial grimace of despair followed by panic wondering just how you're going to get this out; not good.
And this is exactly what happened to one of the guys here in the TonerGiant office when they were changing an ink cartridge in one of our printers. After getting a few small drops on their shirt cuff, they went home and subsequently struggled to get the stubborn ink out.
This got us thinking- what's the worst stain you can get in clothes and fabric?
So we decided to absolutely go to town on one of the boss's old shirts with a load of ink and see if we could get it out. Admittedly, we might have overdone it slightly…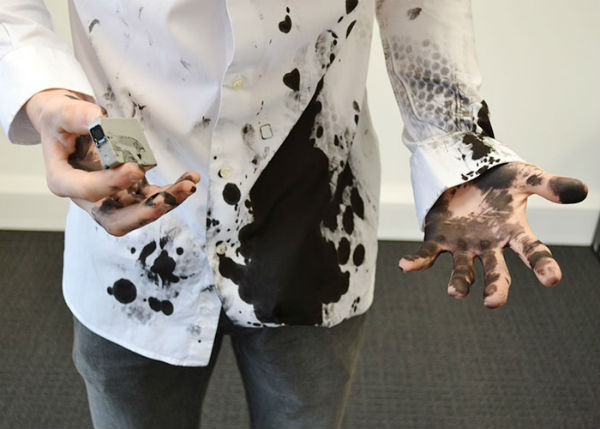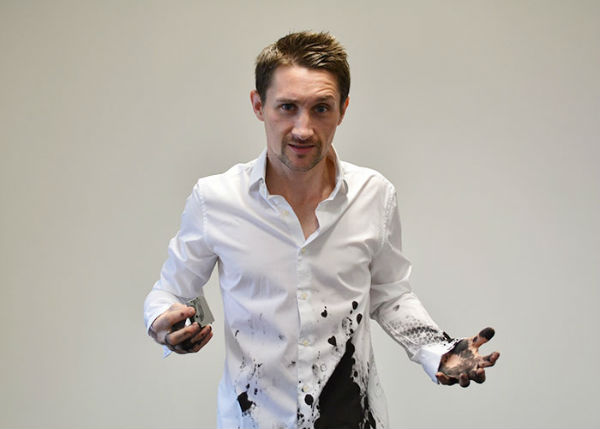 We then, completely unsuccessfully, attempted to remove the ink from the once pristine designer shirt:
As you can see, we found this stain pretty damn tough.
But what's the worst stain you've ever had?
We're looking for your stories. How did you get your tough stain?
Let us know and we'll add them below. Contact us at gareth.marshall@tonergiant.co.uk, or on Twitter @TonerGiant.
Your Stains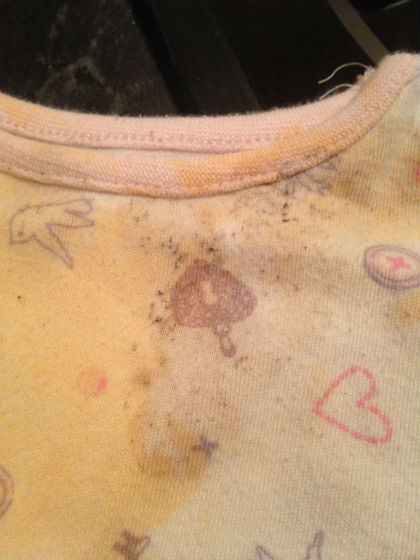 Name: Kerry Dyer (www.livedwithlove.com)
Stain: Banana on her daughter's (Sienna) clothing
Story: "When I first started weaning Sienna, I was more worried about the bolognese sauce and raspberries that would leave  orange/red stains. However, I soon found that banana left awful black stains that not even the sun would bleach out. Yes, banana turns  BLACK!
"It looks so innocent with its yellow flesh and smooth texture… who knew it would stain like that?! I have thrown out so many of  Sienna's  clothes due to banana stains. In the summer I found the orangey stains would be bleached out with the sun when it was hung  out, but not  those old black stains! It just sticks and does not budge! It's not so much of an issue now, I'm so glad that Sienna can finally  eat a banana  with only a small amount of mess and will actually keep a bib on! But be warned if you are at the early stages of weaning!"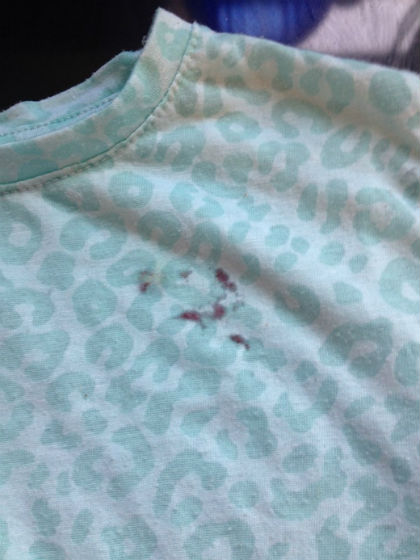 Name: Michelle Ashmore (ShellLouise.co.uk)
Stain: Damson jam on a t-shirt
Resolution: "I did not expect this to come out. But thanks to good old Vanish, a little elbow grease and Persil washing powder, the top is now as good as new!"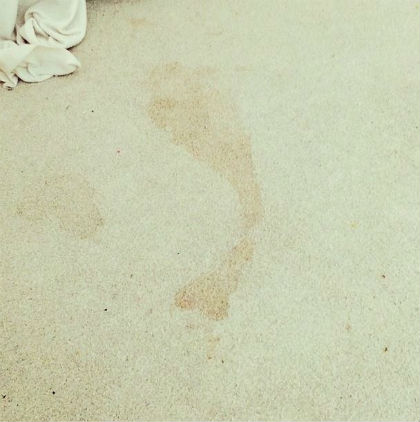 Name: Tania Sullivan (www.largerfamilylife.com)
Stain: Tea on a white carpet
Story: "My 15-year-old daughter got too excited watching Eurovision and managed to spill her tea on my white carpet… twice. And just  to make it worse, this happened a week after I'd had the carpet cleaned! To say I was unimpressed would be an understatement. But I  may have been asking for it; white carpet + 13 children (10 of them under 11 years old)!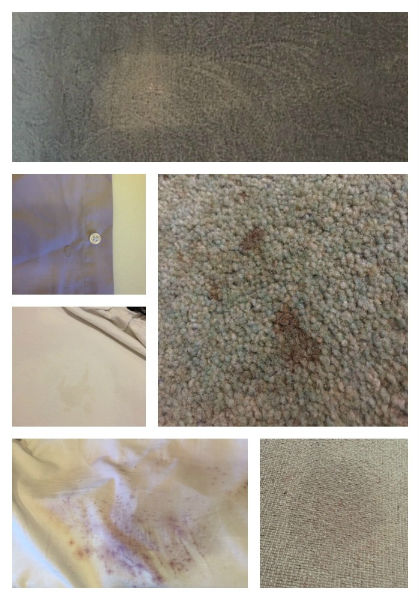 Name: Ellen Arnison
Stain: Paint/coffee/hair dye/tea/curry
Story: Not content with telling us about one stain, Ellen sent in a collage of stains that plague the carpets around her house! You can read more about her stains in her blog post 'The Difference Between Dirt and a Stain."