That great philosopher Kelly Clarkson once said "God will never give you anything you can't handle, so don't stress."
(Yep, that's the same Kelly Clarkson that provides Capital FM with middle-of-the-road music on a regular basis).
But unlike most of her fairly average songs, maybe Kelly's message is a beat we can all dance too.
Of course, that is aside from those people that use Twitter to vent and share their problems with the world.
And just as we do each month, we've found a bunch of souls having trouble with their printers. These guys really need to channel their inner Kelly Clarkson. Because, let's face it, 'Whatever Doesn't Kill You'…(I'm so, so sorry):
It's ok, printers stress out even the most technically gifted of people. Look!
@mariancall Nothing frustrates me more than when a client says "I can't print." I'd rather viruses & HDD failures than a printer problem.

— Andrew Stanton (@GeekStanton) October 29, 2014
Too far Sarah, too far…  
Working from home may be a problem when you find yourself talking to your printer, and even worse, calling it "honey bunny".#WorkingFromHome — Sarah Eaglesfield (@zenxv) October 29, 2014
Like a fireman arriving to a fire without a hose!
Windows has found a problem with the printer but is unable to identify the problem. It's ridiculous.

— Lucy (@BetterCallLucy) November 3, 2014
Ermmm, quite possibly!
@flybe I can't get to a printer to print my boarding pass, will this be a problem?

— dagda1 (@dagda1) October 28, 2014
Printers are even scarier on Halloween!
So my printer started to make noises like it was about to print something. The only problem is is that it is off and Annie and I are in bed. — Lyssa❤️ (@AlyssaMcAndrew) October 31, 2014
You are just the worst, Alex!
Why does my office printer tell me the tray is almost empty – almost empty = somebody else's problem

— Alex Harrington (@aharry79) October 30, 2014
Even Dads have a breaking point  
Dad's conversation with printer: "Oh what is your problem" "Print bitch" "Oh kill me" #dadversustechnology — Jordon Sperry (@JordonSperry) October 30, 2014
Definitely awesome, Nancy! Definitely awesome
Having a 3-D printer on the premises may be a problem…or awesome I haven't decided. http://t.co/xAr7InTSLa

— Nancy Joyce (@bronxgrrl) November 3, 2014

Yeah but it makes writing these blog posts a helluva lot easier, Mika!

I really hope Sadie isn't an anger management therapist during the day…
The problem with a wireless printer is that when it says it's not connected, you don't feel able to disagree. Before you smash it to pieces.

— Sadie Jones (@_Sadie_Jones_) October 31, 2014
If you live in a hipster area like Manchester's Northern Quarter, this may genuinely be the kind of help your local printer expert will give you!
Out of printer ink? No problem. I have a typewriter lying around. pic.twitter.com/iYFamlOUg9 — M@ (@UNLVRebel_Matt) October 27, 2014
And finally…actually you know what, there are just no words…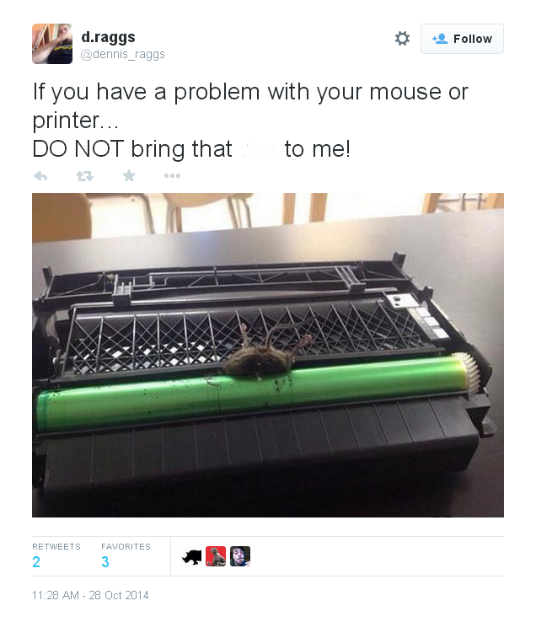 Don't end up with a dead rodent in your printer. If you've got trouble, just get in touch with us, and say 'Never Again' to printer problems (again, I'm so, so sorry).