To quote House Stark from TV series Game Of Thrones: "Winter is coming."
October is here. We're starting to consider turning on the central heating. Soup for tea is once again becoming a viable option. And, if you're like me, you may have already been struck down by the flu bug. Hoorah.
But your printer cares not for the changing of the seasons. It's there to give you problems come rain or shine.
And if your machine is causing you to have a shorter fuse than a poorly manufactured Catherine wheel, Twitter is always there for you to vent your angst and despair.
Here's some people that we've found this month that needed to get their frustrations off their chests:
We've all been there, Christina!
I was trying to fix a problem with the printer for like 20 minutes ; the cord was just lose..#happyfriday

— Christina Gallegos (@christina2012_) September 26, 2014
Just one of those days, Emily. Just one of those days…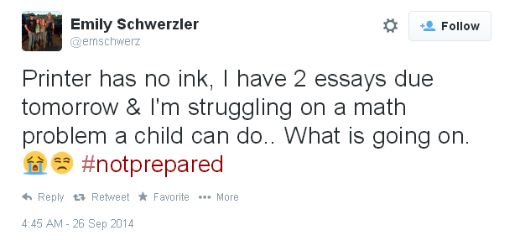 This I think is called the 'scatter-gun approach' to printing success…
Whenever my papers don't print I send them to every single printer on the list and viola problem solved!! — lindsey (@Windsbear) September 25, 2014
'Dingus' should definitely be used more in everyday conversation!
I just sat at my computer for 5 mins waiting for my paper to print. There was a problem. Printer was not on. I feel like a dingus — Eric (@Big_Man30) September 26, 2014
Well yes, Megan…  
I need to use a printer but I don't have one. THAT'S A PROBLEM — Megan Clanin (@MeganC_24) September 25, 2014
It should totally be a skill you can be endorsed for on LinkedIn, Libby!
Fixing a problem with a printer/scanner/copier is one of the great triumphs of office jobs. — Libby O'Neill (@LibbyON) October 2, 2014
Maybe your printer just enjoys number based puzzles?
NO PRINTER I WANT YOU TO PRINT MY LAB NOT A SUDOKU WHATS YOUR PROBLEM — darby (@darbykirkham) October 2, 2014
Yeah but I'm sure you look fantastic, Heather!
I go to CVS to get printer ink and leave with a bunch of new makeup that recently came out. I have a problem. — Heather Kargol ❤ (@hmeetsworld) September 30, 2014
We're saying nothing!
I suck at refilling ink cartridges pic.twitter.com/E5f5N4YB4D — steph (@stephlovesmo) October 3, 2014
And finally, if you've got a problem with your printer, talk to us. Or Charlie, whatevs...
Me if there's any kind of printer-based problem that needs sorting out: http://t.co/f1pEtMY493 — Charlie Jamison (@CharlieJamison) September 29, 2014
If you've got any printer related problems, don't suffer and tweet in silence! Leave us a comment below or reach out to us on Twitter @TonerGiant.