So far in our series exploring the angst and despair of Twitter users pushed to the edge by their printers, we've had-
Let's have a look at some more people sharing their despair caused by a problematic printer in 140 characters and less…
Here's Wyn to kick things off. Don't think anyone can disagree with this.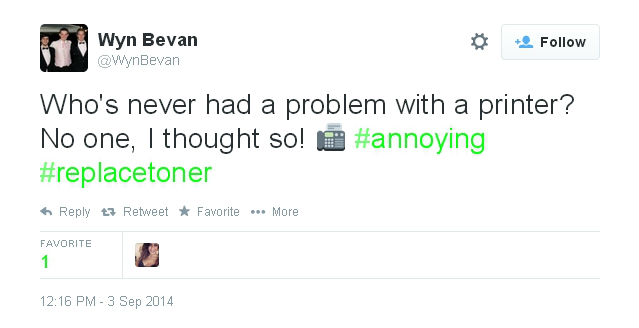 From the use of those block capitals, we're assuming P_Shawny is a touch peeved.
AND OF COURSE THERE IS A PROBLEM WITH MY PRINTER THE NIGHT BEFORE I HAND IN MY FIRST COLLEGE ASSIGNMENT

— PShawny from da bloc (@P_Shawny) August 28, 2014
Don't let anyone tell you that you wasted your Saturday, Enzo.
Go get 'em, Adam!
And I figured out my printer problem?! Look out world.

— Adam Thurley (@Bill3ffinMurray) August 28, 2014
Think you need to have a chat with P_Shawny above, Olivia.
It is 12:18 in the morning, I am cranky as heck, and I just finished my project- finally! Problem: My printer is broken. D,:

— Olivia Gorena (@NerdofViolas) September 3, 2014
This particular rite of passage was strangely left out of every American teen movie ever made.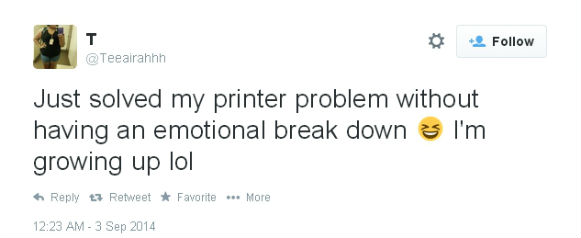 The history of the world?! Who's Marli's 'guy', Doc Brown from Back To The Future?!
Apparently I am the only person in the history of the world that has my problem…. or so says the guy trying to fix my printer lol

— Marli McMurray (@mcmurray_marli) September 3, 2014
And finally. Megan, we salute you.
Problem: printer hasn't worked since freshman year. Reason: there was a fruit loop stuck in it.

— meg kel (@MeggKell) September 2, 2014
Remember- don't suffer in silence. If you're having trouble with your printer, talk to us and we'll be happy to help you! Share your printer problems in the comments section below, or tweet us @TonerGiant.