Two award nominations in two weeks. Yep, it's safe to say it's been a pretty exciting few days here at TonerGiant!
That's right. Our parent company, NetGiant Ltd, has made it as a finalist in two different awards- the 2014 eCommerce Awards and the Bolton & Bury Business Awards. And we're thrilled and honoured about both! Here's what we're up for:
Medium eCommerce Retailer of the Year- 2014 eCommerce Awards

For any online retail business, the eCommerce Awards are THE premier awards event in our industry.
In 2011, as TonerGiant, we scooped the Consumer Choice Award at the awards thanks to votes by our customers. This time we've been shortlisted alongside four other businesses in the Medium eCommerce Retailer of the Year category. After an incredibly successful 12 months for the business, the strength of our application was based on our personal and reliable service, our commitment to cartridge recycling and the continuous investment in the training and development of our staff.
The ceremony is held at the beautiful Marriot Hotel Grosvenor Square in central London on Wednesday 1st October. The likes of Lloyds Banking Group, Thomas Cook and Argos have been shortlisted for awards and will be in attendance, so we're immensely proud to be listed alongside famous brands like these. Check out the full list of finalists.
Business of the Year- Bolton & Bury Business Awards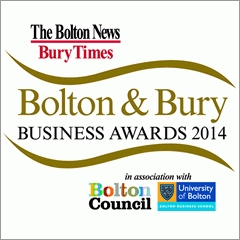 Organised by newspapers The Bolton News and The Bury Times, the Bolton and Bury Business Awards night is the biggest event for businesses in our corner of Greater Manchester.
In 2011 we were shortlisted for the same award and narrowly missed out on winning the accolade, coming a close second in a field packed with some brilliant companies from our local area. It's a huge honour to be shortlisted again, and we've got our fingers crossed that we can go one better in 2014 than we did three years ago! For this award, the strength of our application was based, again, on our personal level of service, and also the fact that we've created 11 new jobs over the last 12 months, with around 90% of our workforce hailing from the local area.
The awards ceremony will take place on Thursday 11th September at the home of Bolton Wanderers FC, the Macron Stadium, within the four-star Bolton Whites Hotel. We're looking forward to celebrating the achievements of some really great businesses in our area!
A word from the owners
Commenting on the company's nominations, Gary Flynn, Managing Director of NetGiant Ltd, said: "We're delighted to be shortlisted for these awards. It's great to be recognised as a stand-out business both nationally and locally. The nominations mark what has been a brilliant 12 months for the business, and they come at a time when we're building exciting plans for our future."
Joanne Flynn, Director at NetGiant Ltd, added: "Like any successful business, it's our people that make the difference. They're the reason for our continued success, and we're really proud that so many of our team come from the local area. So these nominations are a testament to the hard work they put in each day."
From all of us here…

Without your continued support and loyal custom, we would never have been in a position to be nominated for awards like these. We've enjoyed a fabulous year and have some really exciting plans for the future, but none of this would have happened without you!