Picture this.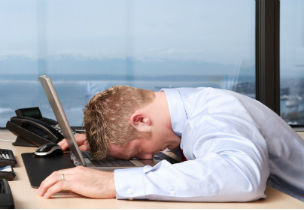 You're about to head into a meeting. At the last the minute you remember that you need to print off something to take in with you. "I'll be there in a second, just let me print this page off." You race over to the printer and, what do you know, it's all out of ink or toner. You can't print off in time for the meeting and, indeed, you can't print until the new ink or toner order has arrived.
"Why didn't somebody sort this before it was about to run out?"
Well, now they can.
Managed Print Solutions (MPS)
MPS takes away the possibility of your printer running dry before you've had chance to order new supplies.
It's really simple. A piece of software sits on your network and detects all of the printers that you have in your office. It actively monitors and displays the ink and toner levels in each machine. When the levels start to get low, you'll be notified and can have an order sent out to you. Before your printers run dry, you'll have new ink and toner ready to go.
MPS At TonerGiant
We now offer MPS because we want businesses of all sizes to be able to enjoy the benefits of a managed print service.
For years big organisations have been avoiding printer downtime caused by running out of ink and toner and not being prepared for it. But the fact is, whether your business employs two or 2000 people, if you've got a several printers in your office and they play an important role in your day to day operations, a managed print solution can save you time and money.
So that's why we launched our MPS. It's a free tool that you can download to monitor your ink and toner levels. There's no fee. There's no contract. Just give the tool a go!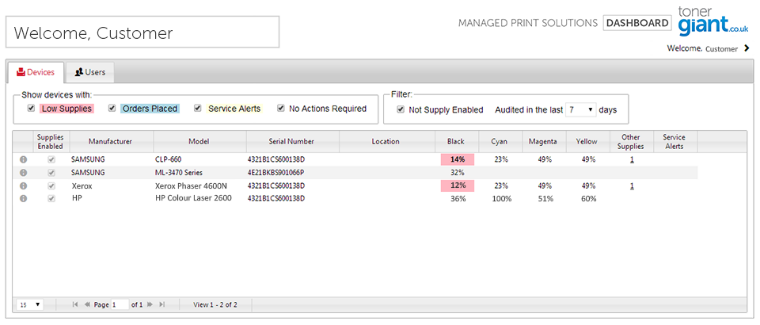 The Benefits
There really are so many reasons why you should consider MPS:
Our tool is free
There's no contract or tie-ins
It's incredibly easy to use
Our tool is completely secure
The admin of ordering supplies for your printer is made easier
Never run out of ink and toner again!