"I once bought some compatible cartridges that were rubbish and ruined my printer."
Is this you? We hear it a lot. People have 'compatible-phobia' (we've made that term up) because they've had bad experiences in the past and refuse to trust them again.
It's something that we covered in our post "6 Reasons Why You're Wrong About Compatible/Remanufactured Cartridges." This mindset is one of the biggest obstacles we have when trying to convince people that compatible cartridges are actually good products!
We always say that compatible cartridges from trusted suppliers should be built to the highest quality. It is also likely that they'll come with warranties and guarantees in the unlikely event of any problems, just as original cartridges do.
But what if you've bought some compatibles that are really poor and the place that sold them to you refuses to help?
The Sale of Goods Act 1979
No matter who you are or what you buy, as a consumer you are protected by the Sale of Goods Act.
If you:

And under the Act, all of the goods above must be "as described, of satisfactory quality or fit for purpose." So your potatoes must actually be potatoes, they should look and taste fine and you should be able to make chips/roasties/mash with them!
It's the same when you buy compatible ink or toner cartridges. However your seller describes them to you, it must be backed up by results. You should expect them to work well and do the job you want them to do. It's your consumer right.
So if your compatibles have leaked, don't work or just produce really poor prints, your seller is in breach of contract, meaning you have a claim under the Sale of Goods Act.
So where do I stand?
You have a claim against the retailer that sold you your unsatisfactory/faulty compatibles. This means that you can take them back to the retailer and ask for a refund or a replacement. (Broadly speaking, the Act also allows you to ask for a repair, but you can't really repair a faulty printer cartridge!).
If you want a refund, the law only allows you to claim one after sending the cartridges back within reasonable time. This is usually around three to four weeks after you made the purchase.
If it's too late to claim a refund, you can then ask for a replacement.
What you can do
If the retailer refuses to replace the cartridges, you can ask them for a reduced refund, dependent on the amount of use you had out of the cartridges.
However, if they also refuse this, you should then take your claim to your local Trading Standards office (you can find your nearest one by visiting the Trading Standards website). Tell the retailer that you intend to do this as this may finally get them to do something for you.
Unfortunately, the retailer isn't entitled under the Sale of Goods Act to do anything if the cartridges have affected the performance of your printer in anyway. However, you'd expect any reputable retailer who wants happy customers to take it upon themselves to do something for you.
But don't let this put you off buying compatibles again in the future!
Compatible cartridges from reputable retailers should be high quality and should give you many pages of happy printing!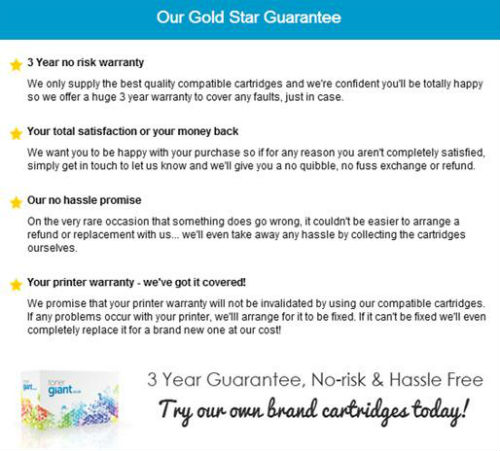 Remember:
Make sure that your retailer can provide assurances over the quality of the compatible
Ask whether they come with guarantees and warranties
Ask how they would help in the event that one of their compatibles caused problems to your printer
Have you had a bad experience with compatible cartridges in the past? What happened? Share your stories below or tweet us @TonerGiant.