How does your business get people to 'feel?'
Sure, some short, impactful statements or a clever pun might get them to take notice of your brand. But something that is also vitally important is the colour that you use.
Think about your logo/company website/marketing collateral for a minute. What colours are synonymous with your brand? What's the colour that features predominantly on your website? What shade adorns the headers of your e-shots and newsletters?
Whether you're aware of it or not, colour in your marketing and advertising material goes way beyond what looks nice on printed paper. You must have surely heard colours described as "loud" or "calming" before, for example?
It's all to do with psychology; different colours trigger different emotions and reactions. Take these two flyers below advertising window cleaning businesses:
Look at them both and ask yourself what do you feel when looking at them? According to research, you're likely to view Fish Window Cleaning as more authoritative, but you might trust Gleam Window Cleaning more, based on colour alone.
Confused? Read below to see which colours are supposed to mean what, psychologically- it might just influence the one you use before your print off your next business newsletter or flyer.
The feelings/emotions that each of the main colours trigger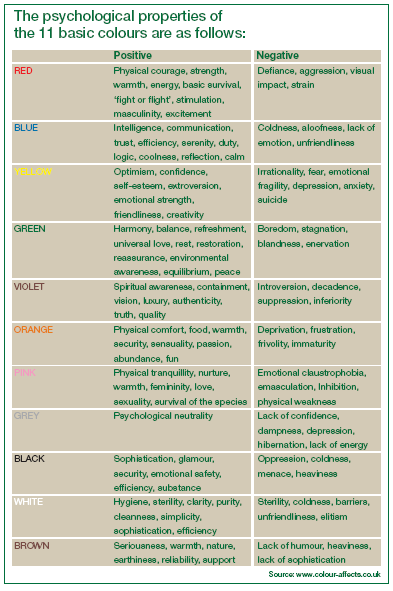 Some examples of this psychology in action
Below are examples of marketing material that use colour. Of course the impact each colour has is purely subjective and what you feel and how you interpret them may differ from someone else, but below I've outlined how I view them based on the psychology stuff we've just gone through:
Brown Medical School newsletter
This is what a newsletter from Brown University's medical school looks like.
As you might expect from one of America's Ivy League colleges, it looks thoroughly professional. The use of white from the medical school is important to create a feeling of cleanliness. And the brown compliments it nicely, giving it that serious look but also reinforces the idea that the school is reliable and knows what it is talking about.
Harvey Nichols flyer
This is a flyer promoting the famous Harvey Nichols Summer Sale.
The psychology suggests that black creates a sense of sophistication and luxury, and this is exactly why Harvey Nicks have their lettering in black. It's even more impactful on the clean background here.
A Harvey Nicks customer will be paying a premium price and as such wants to be reassured that they're dealing with a premium brand at every stage of the buying process. The use of black in this flyer is used to create this reassurance.
The People Tree e-shot
This is an e-shot for The People Tree, a fair trade clothes retailer based in Shoreditch. It's promoting a sale of its women's clothing section, but I didn't need to really tell you that, did I?
Using pink here has been done to reinforce femininity. I doubt a retailer like Burton, for example, have ever used pink in this way, but it definitely works for women's clothing.
IT company brochure
To people that don't know a great deal about IT, IT can be quite a scary thing. It's all very technical and we like to be reassured that our computers and programs are in the capable hands of people that do actually know what they're doing.
And this brochure for a company called Invision uses blue in its brochure to represent themselves as being knowledgeable and intelligent in their field. Furthermore, the white keeps things simple, and that's just how non-techy people like to keep things!
In summary
It's important to make sure you've chosen the right colour before you start printing out those hundreds of flyers and newsletters.
What do you want your customers/target audience to think and feel when they see your piece of marketing? Choose the right colour and you can strike a chord without your reader even realising you're doing it.
How did you interpret the above examples? What colours do you use and when in your marketing campaigns?