What do teddy bears, Sesame Street and a nuclear power plant in the Lake District have in common? They've all been involved in 3D printing news this month, of course!
Yep, it's been another month jam-packed with everything that's weird and wonderful about this rapidly emerging technology. We couldn't round all of the stories up in just one post, so here's six 3D printing stories that have caught our eye over the last four weeks:
Download and print your own Sesame Street figurine
Makerbot, one of the world's largest 3D printer manufacturers, has joined forces with the producers of legendary kids TV show Sesame Street to provide their customers with the ability to print out their own Mr Snuffleupagus figurine at home!
It's the first character from the show that will kick start Makerbot's collection of Sesame Street products on its digital store. If you've got a Makerbot 3D printer it'll cost you just 77p to download the 'Snuffy' design to be able to make a 3.8in x 3.6in x 3.4in collectable.
Personally, I'm waiting for the Big Bird design!
Printer used to create shark 'skin'
Scientists at Harvard University have completed a 3D printed model of a shark's skin. It took over 12 months to complete and has been done to show the tiny "denticles" that sharks have on their skin to aid efficient gliding through water.
The intricacies and level of detail has always made it difficult for researchers to effectively study the denticles. Using the printed model, scientists also attached them to paddles and were able to demonstrate how they increase thrust and reduce drag in the water.
It would have sure as hell made Jaws look a lot more realistic back in the 1970s!
Japanese man arrested for having an arsenal of 3D printed guns
27-year-old Yoshitomo Imura from Kawasaki was more than aware of Japanese law that forbids anyone from owning a firearm. But he claims he wasn't aware that this extends to guns made at home using a 3D printer when he was arrested in April (details of his arrest were only made public in early May).
Imura owned five guns, with two having the ability to fire real bullets. Indeed, this video made my Imura shows him assembling and firing one of his weapons (knock sound down to avoid listening to awful music that could've been taken from Thundercats):
Now soft teddy bears are being printed!
That's right, it's not just plastic and hard structured materials that we can now print. A 3D printer has been unveiled at the Computer Human Interaction conference in Toronto that has produced small woolen teddy bears.
It has a custom built printhead which controls a needle and thread. Using the basic principles of the technology, stitches of yarn are applied and built on layer upon layer. It's hoped that the printer could go on to print skin-friendly electronic devices.
Sellafield uses 3D printers to save money (and that's good news for the taxpayer)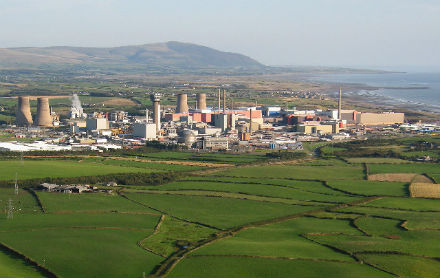 It might be an old nuclear facility in Cumbria that's currently in the process of being decommissioned, but workers at Sellafield are using 3D printers to cut costs.
The site has lots of parts that were made as 'one-offs' 50 years ago and are both difficult and expensive to track down. So now Sellafield is using 3D printed parts to replace them instead at a fraction of the cost.
And even better news? Having already cost the British taxpayer £70 billion to decommission, this use of 3D printing could save the UK millions. Every little helps and all that!
Could we have Android and i-3D printers anytime soon?
And finally, analysts have this month been discussing the possibility of whether tech giants Google and Apple will soon enter the 3D printer market.
In 2013 Apple applied for several 3D printer related patents, and now experts believe that Google, not wanting to be outdone by their main competitors, may show their hands later this year.
It's all guess work at this stage, but it's hard to imagine the pair wouldn't want a slice of this pie. To be honest, I'd rather be ignored on the train in the morning by commuters using i-3D printers to make loads of cool stuff than being ignored by commuters that just have their heads buried in their iPads…
Another great 3D printing story tickled your fancy this month? Don't be shy- get in touch and let us know about it!