We've all been very excited recently here at TonerGiant, and after months of tinkering, researching and a little more tinkering, we've finally launched our new-look, new-functioning website for 2014. We completely re-designed the interface from the ground up, to bring you a better, more stylish experience!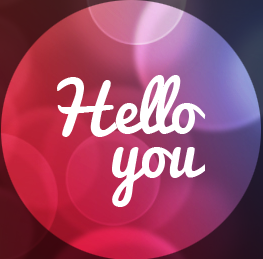 You may have noticed the cleaner, brighter look of the website, our nice new graphics and our colourful designs. But the beauty of the new tonergiant website isn't just skin deep, we've been listening to you and testing how the website actually performs and acts from a customer point of view.
We constantly strive to bring you the best possible on-line customer experience, and part of our aim is to always be on the look out for things we can improve. While we're always bringing you the best service we can, we try to present it in a way in which seems natural and easy; the last thing we'd want to do is to over complicate and confuse you – we've all seen those kinds of websites!
So this is where the new TonerGiant 2014 website comes into play, and here's what it can do besides look really good…
The all-new countdown clock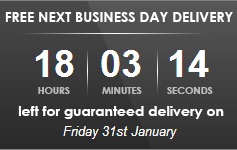 For the times when you're rushing around during the day and you quickly place an order after work or in-between meetings, this handy new clock will let you know exactly how long left you have to order for free next day delivery, and when you can expect to receive your parcel.
This is great because many of us don't have the time to go checking delivery options when we're busy, especially if we know what we want. The worst scenario, in terms of a website experience, is when you get hit with a surprise delivery date after you've placed your order. With the new clock indicator, there are no hidden surprises; you can simply go straight to the checkout whilst clearly being able to see your delivery date at all times.
Updated 'Printer Wizard' design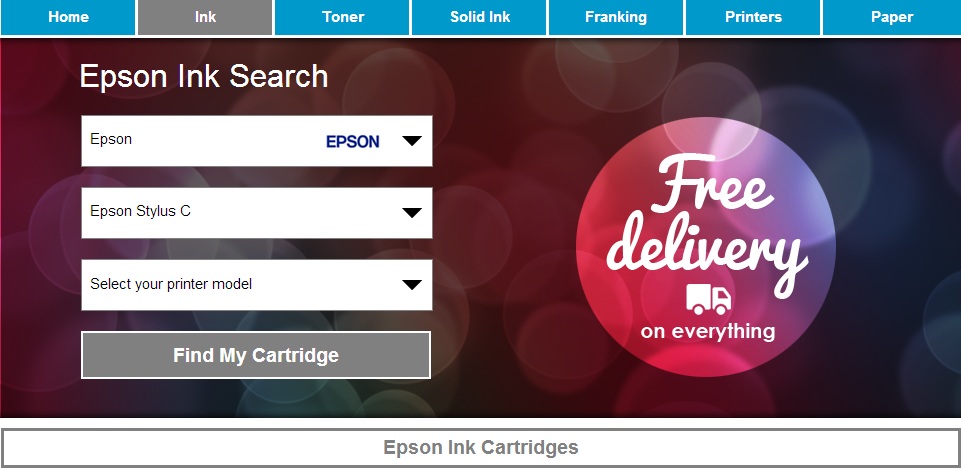 Our Printer Wizard has always been a central feature of the TonerGiant website, and a great deal of effort has been put into fine-tuning it's functionality to create an onsite search system that works perfectly. The new website design sees a complete style makeover of the Wizard, with bigger, bolder drop-down boxes to clearly show you what choice you're selecting. The surrounding casing has been adorned with an easy-on-the-eye backdrop to match the new theme of the website.
The main improvement here however, lies in the manufacturer logos that now appear in the top box. As you can see from the example above, the Epson logo makes it extra clear that your choice is the right one, reassuring you that you're getting high-standard products from your order. All in all we hope this brings our customers a much easier and simple search for all cartridges, and after endless hours of testing and feedback, we can safely say we think it will!
Improved 'compare' functionality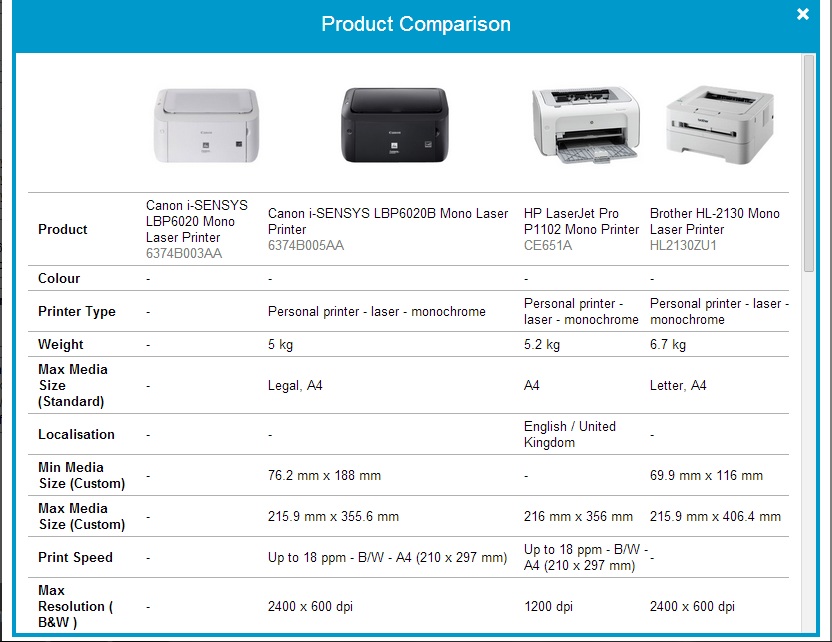 When you're buying a printer, chances are you may wish to compare it against other similar models to be sure that you're getting the best machine for your needs. Our improved compare functionality on TonerGiant does just that, it means that you can select up to 4 printers and view them side by side, looking at functionality, compatibility, weight, resolution and a myriad of other specifications and features.
Our aim with this tool is to bring you a more bespoke tailored shopping experience, making sure you don't feel rushed by giving you plenty of time to browse through your options without having multiple windows or tabs open – we all know that can be a pain!
Additional features.
On top of these great looking and performing new features, we've also added a few more discreet functional elements that just make buying ink and toner a lot easier. For returning customers, we've improved the accounts page, log in to your account and from the previous orders page you can quickly and simply add items to your basket that you've previously ordered; no messing about trying to remember the name of your ink cartridge or searching for it the long way around!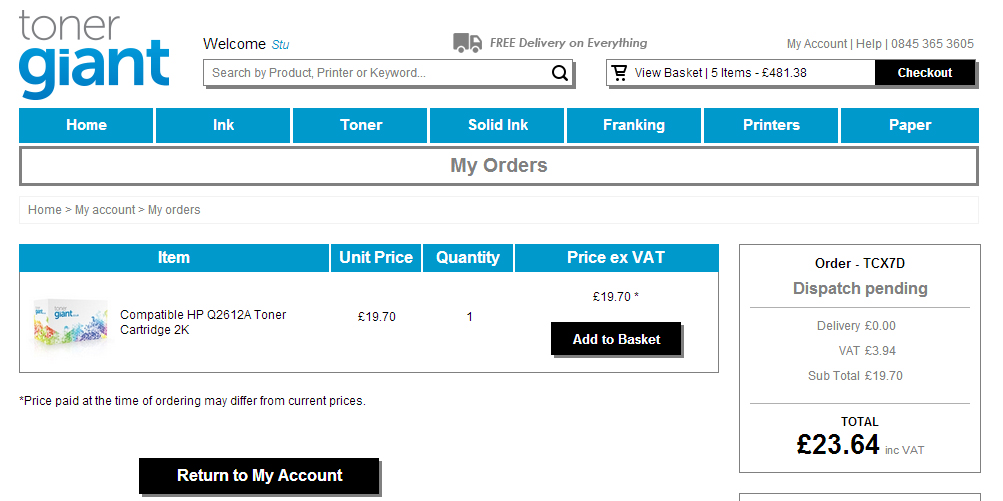 We've also worked hard to bring you a clearer compatible cartridge option if you're looking for a cheaper alternative to your usual manufacturer cartridge. Our own brand ink and toner cartridges are manufactured to a high quality, and in this new re-design, we've made it easier for you to find alternative cartridges. We've done this by adding an 'alternative product' option on the oem cartridge product page, so you're not left looking around yourself for it.
And there's more: we've added a 'back to top' button, which allows you to 'jump' up to the top of the page if you've gone too far down – yes; our product range is that wide! Amongst other features is a newly refreshed live-chat design, because we thought our excellent Customer Care team deserved a feature as good as the service they deliver!

Help us, help you
We'd love to know what you think of the new website, after all, we develop these new ideas and functions to bring you a better experience, and it's a constant process. If you're impressed with our website, or you'd like to chat to us about anything at all, head on over to our Twitter, Facebook or Google +pages or leave a comment below.
Print happy!