Capture the perfect portrait
With high-quality digital cameras readily available to the mass market, long gone are the days of getting a professional in for a photo shoot. Yes you may use them for special occasions such as weddings and school photographs, but with handy how-to guides and videos freely available on the internet, everyone with a digital camera can have a go to capture the perfect portrait.
At TonerGiant, we're passionate about print, and what better way to keep your digital snaps forever, than to print them off? In our previous post, we shared a general guide to taking the perfect photograph for your prints, but this week, we're focusing in on portraits.
Here are a few things to think about when thinking about how to capture the perfect portrait, with a few hints, tips and ideas thrown in there as well! And we've also outlined a few tips to ensure they look great once you've printed them, too.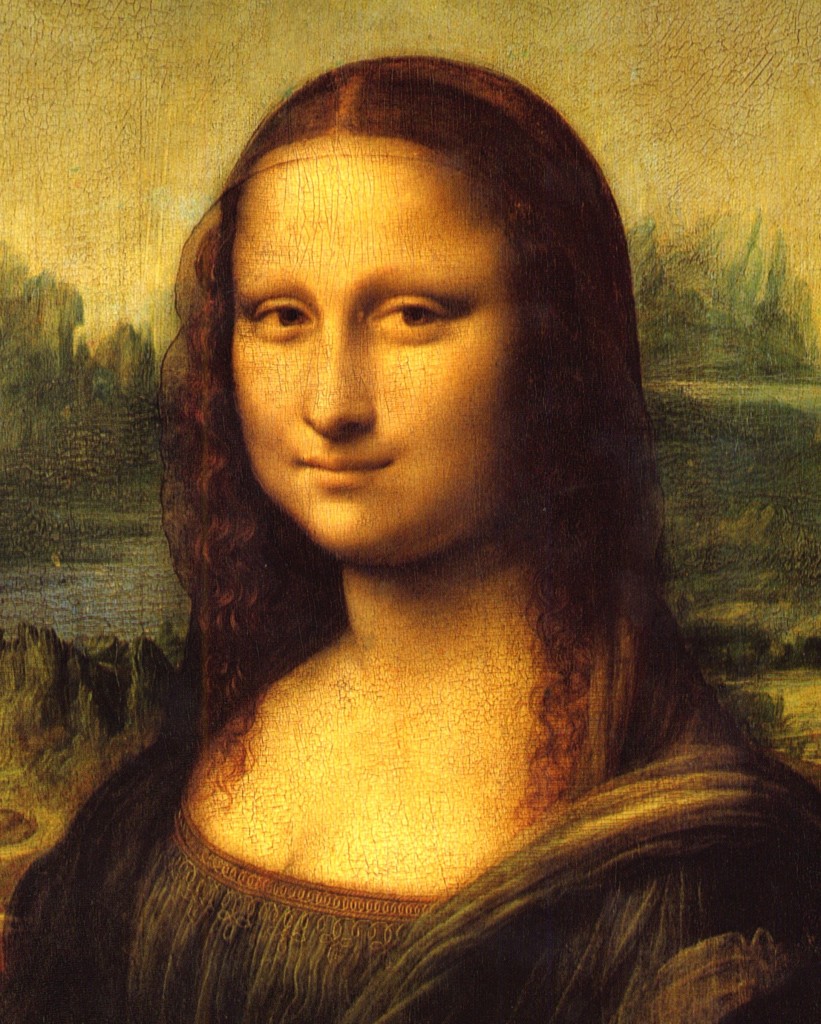 Background
When taking a portrait photograph of somebody, it can be extremely easy to focus too much on that person. Now if what I've just said sounds like a complete contradiction of the purpose of a portrait shot, please, hear me out…
A shot of a man's head and upper body is a very common shot, and can be shot very easily by anyone of any ability. However, why is it that it is so easy for us to recognise a great shot? More often than not, it is the background's effect on the overall composition. Choosing a contrasting, plain, bold backdrop can bring out a bright, vibrant and exciting person, illuminating their features and placing even more focus on them. By taking everything other than the focal point into consideration, we can sometimes bring more emphasis onto it.
In addition to choosing the right background, you can also use flash and light to capture the perfect portrait and direct more focus on or away from the subject. Just look at how Natalie Portman's face and hair takes centre stage in this shot below.
Pro Tip: the photographer here has directed more light around the head area to emphasise the face and hair, whereas her body is surrounded by darker light. Even her clothes are grey and non-significant to further take away attention from anything but her face.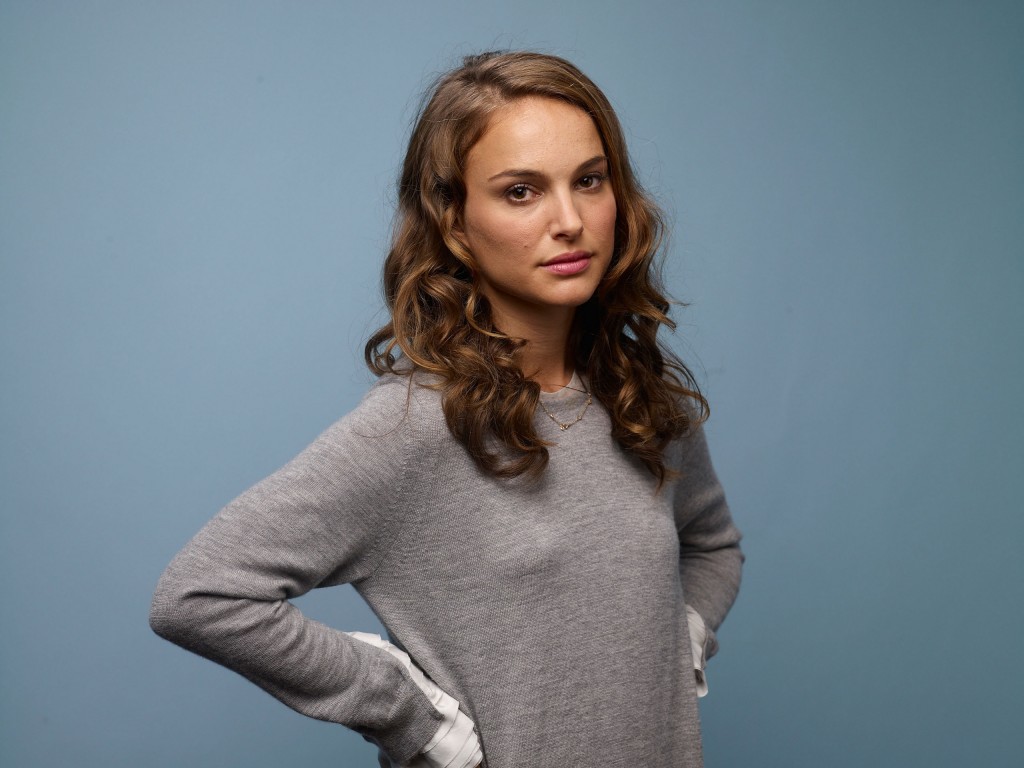 Depth-of-field.
Is your subject going to look as if they're a long way away from the background, or part of it? The distance you put between your subject and the background is also controllable. Playing around with the depth of field can make some drastic changes to how your subject stands out from the background as well as where in space they seem to be.
Here is an example of a woman in a photograph with a short depth of field: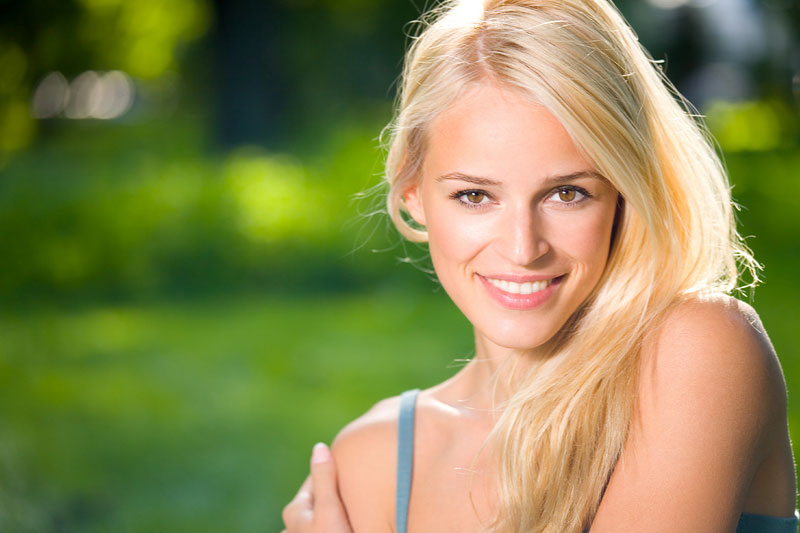 We can see that the background is blurred, and so the woman appears to be more in focus and separate from the background elements.
Pro Tip: to do this, set your aperture to a 'wide' setting, which will be a small number, e.g. 'f/2.8'. with a quick shutter speed, this setting will let more immediate light in – light from the 'front' or foreground of the shot – whilst not focusing equally on the backdrop. This sort of shot is best achieved when taken close-up to the subject.
The image below shows three different stages of aperture settings, with the one to the left being a 'smaller' aperture – such as an f/9 – gradually getting more blurred as we go to the 'bigger' aperture settings such as the aforementioned f/2.8.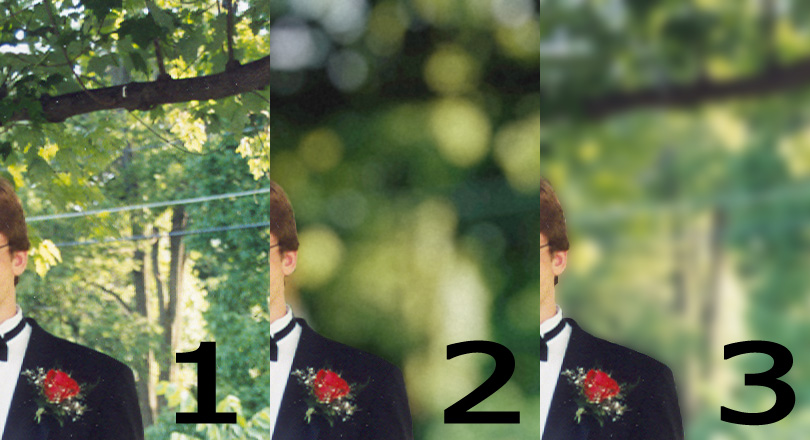 Eye contact.
Eye contact with the lens is the most widely accepted style with portraits, and it often provides the best outcome if it's a photo you'd like to keep to remind yourself of that person. But sometimes it can be fun to play around with eye contact, and this all depends on the purpose of your shot. Lorraine Creagh's photo below does just that, and it completely changes the meaning of the photograph. First of all: what is the man looking at? Is he looking at something or just staring into space? Is he bored? Tired? Annoyed? Where has he just been? What is he thinking? It doesn't matter if you catch your subject off-guard between shots or if you give them directions to act out an emotion, the point is that you can completely change the face of the shot just by breaking the eye contact with the camera. You'll soon see that a whole load of potential new expressions come into play.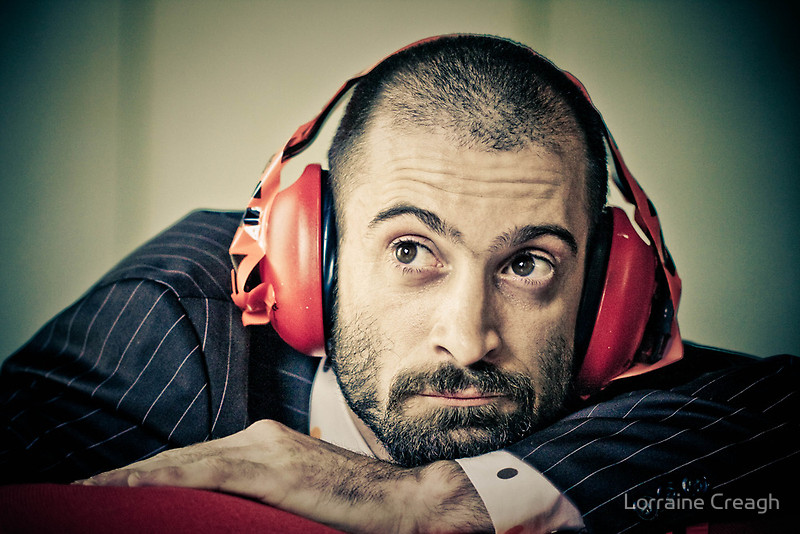 Photo credits: Lorraine Creagh.
Just play around!
The main idea is to have fun, these may be tips designed to help you, but they are only guides to play around with. Take hundreds of shots in the same shoot, try out crazy ideas and have fun connecting with your subject and directing them. That's the joy of digital photography; you can throw away unlimited shots without any real loss. If you snap 345 photographs on one day, you're bound to have a handful of 'keepers'.
We already know that if you're reading this, you're the type of person that loves art, print, design and photography, and you obviously have the capacity to search out help and resources online. It's inevitable that you'll get your perfect portrait yourself, were just here to give you some ideas. Find your angle on the shot.
And when it comes to printing them off…
Remember, once you have that perfect portrait, there are technologies available to print directly from your DSLR camera without having to go back to a computer!
In terms of which printers work best for photographs, inkjets are widely regarded as being better at producing a better quality of print when it comes to photos than laser printers. This is because ink cartridges do a better job of blending colours together smoothly than toner cartridges.
However, you may also want to consider solid ink printers. This technology is favoured with graphic designers and professionals that need their colour definition to be absolutely perfect every time. You can read more about solid ink our this post.
You should be well on your way to capture the perfect portrait now!
(Note from editor: this post was updated on 9th January 2015).