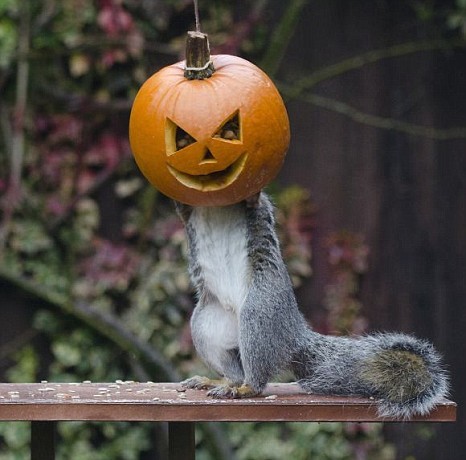 Image courtesy of The Metro
Yes, you saw that right – it's a squirrel 'wearing' a carved pumpkin, and that can only mean one thing: Halloween is upon us!
Up and down the country, you see people wearing costumes, ranging from the really creative and skillful to the, well, shall we say…. different?
Of course, when it comes to Halloween, costumes are only one way of making an impression. Apart from 'decorating' yourself, making your home or office look spooky-wooky is equally as fun!
Whereas adults tend to just buy the odd garland or creepy doll at their local fun shop, kids like to create things themselves and add some personal touches to them. So if you're working with kids, be it at a school or as a child-minder, or indeed if you've got kids yourself, all you need now is a decent printer and some office staples (scissors, crayons, you get the idea).
"Will I not also need some templates, or at least an inspiration", we hear you say? Fear not! We, the good people at Toner Giant have got your back! Our great design department have done the hard work for you and created these two wonderfully scary-looking cut-out skull and vampire templates;
Click to download printable skull Halloween mask PDF document
 Click to download printable vampire Halloween mask PDF document
So even if you find that you're the least creative person in the world or that arts and crafts really isn't your thing, you will still be able to impress the kids (and maybe even have some fun yourself).
"Great, so I'll end up with two images of scary-looking characters on a sheet of paper?! That'll get the kids laughing at rather than with me!", you scream? Well, you see, we wouldn't be working in the printing industry and enjoy our jobs as much as we do if we didn't know that 'printing' is so much more than just ink on a plain sheet!
Bear with us and we'll show you how these two creepy faces can actually be turned into a garland, masks or even as the heads of spooky dolls. Plus, they're customisable, so the kids can add their individual touches to them.
The following step-by-step guide should make things really easy for you and yet provide the kids with a few hours of fun-filled creative work.
Step 1
Download the images and send them to a wireless or cabled printer. Ideally, this would be a colour printer but if needs be, a black-and-white one will do.
If you happen to have access to a label printer, you could also consider this print spooky stickers.
Step 2
Depending on what you (or the kids, for that matter) wish to create, choosing the right paper is important. We recommend that you don't use paper that has less than 75gsm (grams per square meter, i.e. paper density) as that will be too thin and hence makes it fiddly to cut, especially for little hands. So if you wanted to produce a garland or maybe just a cut-out for the kids to stick onto the fronts of their desks, paper between 80-100gms should be fine.
However, if your plan is to create masks or to use the cut-outs as the heads on a doll or puppet (or whatever else the kids might come up with – remember, they're likely to be more imaginative than you…), we recommend using thicker, more solid paper. Paper in the range of 100-130gms is still easy enough to cut through, while being sturdier and hence less likely to tear and go to waste. The last thing you want is for the kids to get frustrated because their artwork doesn't hold up and a heap of paper for you to clean up and bin afterwards. At Toner Giant, we stock a great variety of paper with 120gms such as this. Handily, most of our paper comes in packs of 500 sheets so you won't be in danger of running out.
Another great idea, albeit a bit more expensive, would be to print the templates on a photo printer as that allows you to print the images on glossy paper. Photo paper naturally has a higher density and will also work well with our templates. So if you're only looking after a small group of kids (or indeed if you or your company has set apart a budget for all things spooky), you might consider this option, too.
Step 3
Once you've printed the images, the fun begins! If you've chosen relatively thin paper, you could hand out thin cardboard or some textile material such as felt and let the kids stick the print-outs onto that.
Step 4
Advise the kids to cut along the outer lines of the images. Our design team drew the faces purposely bold so that even smaller kids should find this an easy enough task. If the images are supposed to be used as masks, we recommend cutting one or both eyes out (or maybe one of the teeth?), to make them safe to wear and add some extra-spooky detail to them.
Step 5
We've kept the faces quite light to give the option of coloring them in or for the kids to scribble their names onto them.
Step 6
Once the images have been customised to everyone's satisfaction, you can then tape them to a long piece of string to make a garland, stick them onto a pumpkin, a doll, piece of wood or whatever else the kids have come up with. For masks, we recommend using a hole puncher to pierce the 'ears' and tie an elastic band around them.
Step 7
Create a mask yourself and join the kids for an evening of good old 'trick or treat' fun – optional!
Overall
Even if the idea of arts and crafts at first sounded even scarier to you than our Halloween templates, we hope you find our ideas and guide useful and easy to re-create. All it takes is an office or personal printer and some good-quality paper et voilà, you can entertain kids with some spooky fun tasks that will keep them occupied for hours as well as inspire their creativity and advance their motor skills.
What other ideas did you or the kids come up with? Please leave a comment below or send us your pictures!