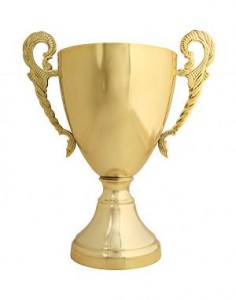 We're no strangers to getting awards here at TonerGiant.co.uk…We recently won the 'Consumer Choice Award' in the prestigious e-Commerce Awards for Excellence 2011. This was a great one to win as it was votes from our customers (and we got more votes than some household names) that ensured we picked up the award!
And now we're all delighted that our parent company, NetGiant, has been recognised in our local region and is shortlisted for Business of the Year in the Bolton & Bury Business Awards 2012.
Being nominated and winning awards is great as it recognises the commitment and hard work that the whole team here put in day-after-day. There's no doubt that ink and toner cartridges are a commodity product, so we add value to our customers and in turn have a successful organisation,  with a completely customer centric approach to our business. We're in good company with our approach to customer service; here's one of the many quotes on the subject from the founder of Amazon, Jeff Bezos…
"If there's one reason we have done better than of our peers in the Internet space over the last six years, it is because we have focused like a laser on customer experience, and that really does matter, I think, in any business. It certainly matters online, where word of mouth is so very, very powerful."
Yes, at TonerGiant.co.uk we talk about customer care all the time; its our obsession! There's a great article written buy our customer care team leader here that gives a great insight to our particular approach on the subject. And if you would like to see more and our independent reviews take a look here.
Of course another great benefit of winning awards is it raises the profile of your business… And while that's an intangible benefit, it is a benefit. Your suppliers, your customers and your competitors will all take note of your success!
I would suggest that if you have a business, look at the awards that are relevant to your sector or region and give it a go. Of course you'll need to be good at what you do and it takes a little practice writing your entry, but you've nothing to lose.
The Bolton & Bury Business Awards are to be held at the De Vere White's hotel at the Reebok Stadium, Bolton on Thursday 21st June. We'll all have fingers crossed, but whatever the outcome we'll have a great night.
As you would expect we're always pleased to get feedback from our customers, so if you'd like to share your recent experience with us, our customer care team will be delighted to hear from you on 0845 365 3605 – Monday to Thursday 9am -5.30pm, Friday's 10am – 5pm (excluding Bank holidays).