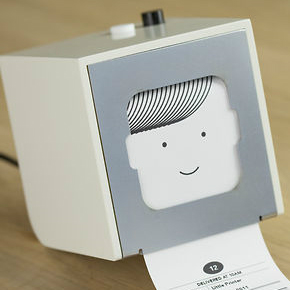 Design studio Berg has announced that it's launching a brand new printer. When you think printer you think of a big, noisy, grey box hidden in a cupboard at home. Well I think Berg's "Little Printer" is about to change your way of thinking.
The Little Printer is a tiny device that is designed to sit in your home and print you information direct from the web. All you have to do is hook it up with a wireless connection, then use an app on your phone to tell it what slices of information you want to print. You can set it up to print all kinds of things like birthday reminders, to-do lists, calendars, gossip from your friends, you can even send messages to your friend's Little Printer. You can also press the button on the top and the printer with gather all the information you've sent it and print it out in a miniature newspaper format.
The Little Printer holds a compact, inkless, thermal printer so you wouldn't have to pay any extra for ink cartridges like you would with conventional printers
The Little Printer will be available in 2012 but it's not clear yet how much the Little Printer will set you back. I've got a feeling that the Little Printer is going to be a big thing with launch partners as big as Google, Nike and the Guardian newspaper.
Check out the Little Printer is action by watching the video below!