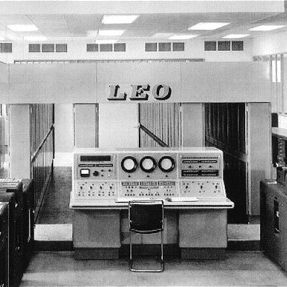 We're all knowledgeable about computers in the workplace.
For most people, when we walk into work in the morning (usually trudging slowly first thing on a Monday but with much more of a spring in our step on a Friday for some reason!), the first thing we see after our customary "hellos" to colleagues are our pcs.
Go into your supermarket for a few groceries, the chances are you'll pay at a computerised till which can tell you the price of your beans while automatically conducting a stock inventory. Pop into your bank, and they'll have a computer that knows your entire credit history.
So who do you think it was who brought us the dawn of the work computer in the UK? You would be forgiven for thinking it was one of the leading computer giants like IBM or Hewlett Packard, but you would be very much mistaken, as I was.
Lyons Made
According to The Telegraph, it seems that the very first work and business computer in the world was designed and operated by a UK company called J. Lyons and Co, who amongst other things owned a chain of tea shops and made biscuits. The Science Museum has just celebrated the 60th Anniversary of what has proved to be one of the single most important technological business innovations of the 20th Century. Their groundbreaking computer was called LEO, named after its inventors, the Lyons Electronic Office.
Ginger Nuts
J. Lyons and Co was no ordinary biscuit manufacturer, and they had some of the finest engineers of their day working on technological innovations.
Their team of boffins constantly tinkered with the firm's machinery and delivery vans to make them better and more efficient. Based at the company headquarters in Hammersmith, the reason for building the computer was to take over the function of a team of accounts clerks.
Using information they garnered from electronic developments in military applications from scientists in the USA, they managed to convert a system that was originally built for army weaponry into a workable business computer prototype.
They wanted to simplify the way the company calculated the costs of their weekly distribution run. While at first, LEO was unreliable, after two years of constant tweaking and improving it, it eventually took over the even more laborious task of Lyons' payroll.
And today, business would be lost without their computers. We may not still have been in the realms of writing out letters and invoices with quills and inkwells, but we'd certainly be using a lot more paper.
Use your office computer and visit TonerGiant today for all your business printing needs at prices that you don't need to be a Rich Tea to afford.
Source: Telegraph