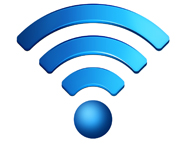 We all know how reliant we are on our Wi-Fi for our home and work needs. It might be that all important work email we need to get across to work, accessing our bank account or even ordering supplies from our printer.
Even just updating our Twitter or Facebook pages from our 3G mobile phone to share information with friends is something we've become ever more dependent on. A friend can't make it on a night out? No problem, because by the power of 3G, they can have an instant update on how good or bad the night has been. At TonerGiant a good internet connection is vital to be able to help all our customers with our award winning customer service.
The thing is, we've all at one time or another been left frustrated by that little exclamation mark at the bottom of our laptop screens informing us that the computer has dropped a weak Wi-Fi connection, or a lack of green and red arrows on the 3G symbol on our phone.
We might have just finished writing our finest ever email to work, the one that's going to get us promoted, when we get an "Error – Cannot send" message, and all our hard work has disappeared into the ether without saving.
We're never able to remember how brilliantly and succinctly we put across our point, and when service is eventually restored, the new email is a pale imitation of the original. Or so I convinced myself the last time it happened to me!
Cookware To Hardware
One man has discovered that there is a way to boost your Wi-Fi and 3G signals without needing the expensive technology and equipment of NASA to do it.
Peter Cochrane, a retired BT Chief Technology Officer discovered a novel way to boost his Wi-Fi and 3G signals while out on a boat in the Norfolk Broads. He was unable to go online with either his laptop or mobile phone, but without access to a high-gain antenna, what was he to do?
The Solution
The solution was in the kitchen. Peter improvised by using an old baking tray and a little bit of time using it to locate the best Wi-Fi signal. As Peter himself said, all he needed to find the strongest Wi-Fi and 3G signal in the area was the "unlikely combination of a baking tray and some judicious positioning." And hey-presto, the baking tray amplifies his Wi-Fi signal!
 Peter's innovative use of cookware makes even the highly experimental Heston Blumenthal look like a cooking Luddite.
Our Secret Recipe
At TonerGiant, we like to show a little culinary innovation ourselves, and here's our secret recipe for all our customers to make for a happy printing experience.
Begin by warming up your phone or laptop until ready to use.
Take one easy to use website.
Add the lowest prices for printers, and printer cartridges on the net.
Finely sift through all the choices available to you for all your printing needs
Add all your items to your shopping basket.
Wait for your order to arrive with our free super-fast delivery.
Enjoy your printing.
Source: Telegraph