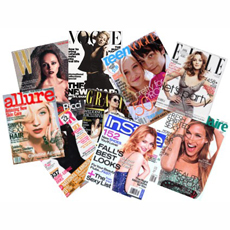 It seems we all love reading our glossy magazines. In the UK alone, we buy almost a million of our favourite publications every week. Aside from the huge variety of magazines on offer, the only real choice we've ever had is whether we buy them from the supermarket, from our local newsagent or have them delivered by our paperboy. But that may all be about to change soon.
Print your own magazines?
PCmag.com is reporting that Hewlett Packard has announced a deal with one of the biggest producers of magazines, Conde Nast, to allow consumers to print off their magazines in the comfort of their own home or office. It entails customers taking out a regular monthly subscription which sends the magazines directly to your HP internet connected printer.
The subscription based service is currently on trial in the USA. According to Hewlett Packard, customers will be able to download and print Condé Nast-owned titles such as Allure, Epicurious, Glamour, Golf Digest, Self, and Wired.
As of this moment, it is uncertain whether customers will need to print off the entire magazine, or whether they will be able to print out just the specific portions of their chosen magazine. It is also unclear whether certain magazine buyers will have to put their printer on the top shelf in order to print out their particular publications!
Cost effective??
One are of concern for consumers is whether it will prove to be cost effective. Will buying the toner cartridges and the paper for printing be cheaper than the cost of just going out and buying the magazine or having it delivered direct to their door? You can be sure though that with TonerGiant making compatible cartridges for HP printers at prices lower than ever, there may well be significant savings to make for all our customers, if this really is the future for magazines.
The list of magazines available is not too exhaustive, so the initial trial will possibly be relatively small. Whether or not it catches on is another thing, especially without the maximum choice of magazines available to customers.
If the trials prove to be fruitful, we could be printing off our favourite magazines from the comfort of our own armchair. Perusing the perverted proclivities of Premiership players may soon be as easy as pressing print.
Refuse to pay top shelf prices for your printers and ink cartridges. Subscribe to the TonerGiant philosophy of saving our customers money every single day by visiting us now.

Source: PC Mag