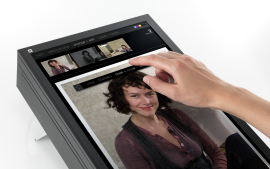 It's been some time since TonerGiant got excited about a printer, but we could hardly contain ourselves when we saw what this concept printer, designed by Artefact, can do.
The printing industry has been screaming out for a design and concept to change the way we use and think of printers and by Joe, Artefact have done just that.
Technology has come along way over recent years with smart phones, tablets and everything is now pretty much in 3D but home printing has been left in the 90's. The Artefact SWYP is printer evolution in its finest form. In fact I think it's EPIC and here's why:
The Artefact concept printer has a nice slick design, it could easily sit anywhere in your home and not look bulky or out of place. Gone are the days where you need a computer to edit your pictures before printing, and by using its touchscreen technology to change various layouts you can do just that.
Everything with this printer is effortless which makes me really, really want one!
Unfortunately this printer is only a concept which means some one has to fork out some serious money to make it a reality. I personally think HP should send Artefact some cash, because something as EPIC as the SWYP printer could really do wonders for HP's printer sales!
To see how the SWYP concept printer got TonerGiant excited check out the video below: