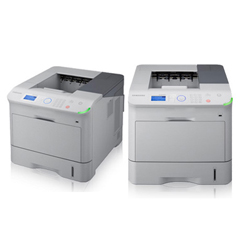 Samsung have recently launched 2 brand new printers ML-5510/ML-6510, which are currently the fastest mono laser printers available.
Samsung have targeted the business-to-business market in the UK and claim that these machines are a big step in driving businesses to Samsung's printer range.
New printer technology has plateaued in recent years, as new innovations in mono printers have been few and far between, hopefully Samsung introducing 2 new super fast printers this should change.
The Samsung ML-5510ND Mono Laser Printer boasts print speeds of up to 52 pages per minute in A4 format and the Samsung ML-6510ND Mono Laser Printer can print an amazing 62 pages per minute, making even heavy print jobs, light work!
So could your business benefit from buying one of these printers?
Absolutely!
Both printers are kitted out with 700 MHz dual core processors, 256 MB of ram, state of the art anti-jam technology, duplex printing and can connect to a network. Plus, not only do these printers have all of the geeky stuff above, they can pretty much print on anything from envelopes to transparencies.
The ML-5510 and ML-6510 printers hold quite a lot of paper (620 sheets) so there's no need in buying an extra paper tray or keep topping up paper, for large print jobs, but for me the biggest selling point of the ML-5510 and the ML-6510 is that they're both considerably cheap to run. Take the high yield toner cartridge MLT-D309L for example, it prints 30,000 pages and is only £130.43 ex vat, that's 0.004 pence per page.*
With the demand on technology to be faster and better Samsung have really pushed the boundaries on speed, quality and cost of up keep, so the ML-5510 and ML-6510 printers could be a fantastic addition to your office.
*costs calculated on the 19/07/2011