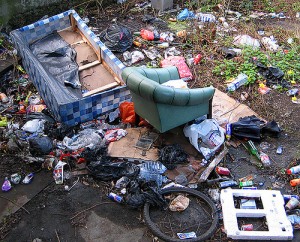 Today a new campaign was launched to highlight and tackle the amount of litter on our streets.
Founder John Read has engaged the support of a large number of celebrities and has enrolled Jeremy Paxman as the campaigns high profile patron.
Speaking on Radio 5's morning phone-in, Paxman was critical of the 'Keep Britain Tidy' campaign saying it was 'ineffective' and that our 'roadsides are still covered in garbage'.
It was clear that Paxman was being deliberately controversial to create debate… And whilst he stopped short of directly blaming fast-food outlets such as McDonald's he claimed that they should do more to encourage their customers to dispose of their waste responsibly.
The campaign's website is littered (excuse the pun!) with facts about the problem and makes quite shocking reading. Here's a few of their statements;
McDonald's is the most littered fast food brand in England
Coca Cola accounts for nearly 5% of all litter
42% of smokers think it is acceptable to drop cigarette butts as litter
Removing chewing gum costs London £10m a year
Picking up litter cost Local Authorities nearly £1 billion in 2010
To get the full picture of the Clean Up Britain Campaigns claims and aims, go to the website here.
From a personal point of view, seeing people throw litter out of a moving car or finding discarded food and drink packaging a few yards from a bin, really does make my blood boil…
What's your opinion on the UK's litter problem? Let us know via our simple poll on the TonerGiant Facebook page. Click here to participate.