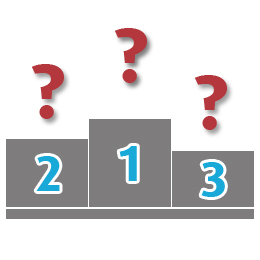 Google has surpassed Wal-Mart and Microsoft to become the world's leading brand, according to the results of the "the Global 500" published by Brand Finance.
Brand Finance first issued its global report back in 2007, the global 500 is published annually and takes data from all listed companies around the globe. To get the valuation Brand Finance study the strength, risk and future potential of a brand compared to its competitor.
According to Brand Finance's annual survey, Google has conquered the global list with a brand valuation of £27.3bn, pushing Microsoft valued at £26.3bn into 2nd place and last year's biggest brand Wal-Mart (who own Asda) valued at £22.2bn into 3rd.
The biggest climber this year is Apple who last year were ranked 20th on the biggest brand list, are now ranked 8th in the world with a brand valuation of £18.2bn.
Coca-Cola went flat as the 3rd biggest brand in 2010 plummeted to an astonishing 16th on the list with a valuation of £15.9bn.
US brands dominated the top 20, taking 13 places, while UK brands managed to take only three. Vodafone ranked in 5th place with a valuation of £18.7bn, HSBC ranked 11th with a valuation of £16.99bn and Tesco ranked 19th with a valuation of £12.99bn.
Hewlett-Packard who is the leading manufacturer of ink and toner cartridges had a brand valuation of £15.97bn. This year unfortunately HP didn't make the top 10 and dropped from 9th last year to 13th.
It wasn't all bad for the printing industry though as Samsung made some ground on their rivals HP moving from 23rd last year up to 18th this year and had a brand valuation of £12.9bn.
Check out the top 10 brands of 2011 here:
2011 Rank
2010 Rank
Brand
Brand Value
1
2
3
4
5
6
7
8
9
10
2
5
1
4
7
12
6
20
15
11
Google
Microsoft
Wal-Mart
IBM      
Vodafone
Bank of America
General Electric
Apple   
Wells Fargo
AT&T    
£27.3bn
£26.3bn
£22.2bn
£22.1bn
£18.7bn
£18.7bn
£18.6bn
£18.1bn
£17.7bn
£17.6bn
 
Printer manufacturers:
2011 Rank
2010 Rank
Brand
Brand Value
13
18
9
23
HP
Samsung
£15.97bn
£12.9bn