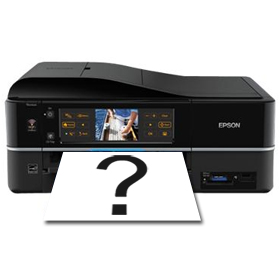 With so much choice and such a vast difference in technologies, choosing the right printer is a tough task.
Printers can cost anything from a few pounds to thousands, so how do you know if you're getting the right printer for your needs? Here we will discuss what to look for if you are student, home user, or business.
There are a lot of factors to consider when buying a printer. The most important factor is what will you use the printer for? Speed, quality, and then there is the matter of cost, connectivity, size and so forth. Arguably a printer is the most difficult piece of hardware to buy as there are so many printers to choose from.
Let's begin by taking a look at the different things you might want the printer to do and some things that you might need to consider.
Student / Home User 
Would you like to print images and pictures, or just text? 
Do you need to be able to scan and copy documents or even fax? 
Do you need a printer that is cheap to run, but still be able to produce high quality prints? 
You may also have a budget in mind of how much you would like to spend. 
Personally I would recommend a multifunction inkjet printer for a Student or Home User, and here's why:
A multifunction inkjet printer would be a great choice because you can print, scan and copy and in some instances even fax (ideal for assignments or just copying your bills), also if you're looking to save money, an inkjet printer is a good option, as ink cartridges can be quite cheap to buy.
Here's my insider tip: Be careful when buying a printer as some cheaper models can often have expensive cartridges, so have a look at how much a set of cartridges will set you back, before you make your decision.
If you are thinking of printing off your holiday snaps or using images in your assignments, then you will need a printer that produces good quality print outs. Have a look at the DPI (dots per inch) of the printer; the higher the DPI, the clearer and detailed the images. To give you an idea a good DPI for printing photos would be a resolution of 4800 x 1200.
If like me, you love gadgets but hate the clutter of cables, you might want to print wirelessly, many printers now have this feature built in and some printers will even allow you to print directly from your mobile phone. An easy way to find out if the printer is wireless is by checking to see if you can see a W in the model number. Most printers with a W in the model number will be wireless.
A good way to narrow down your search is to start with a budget in mind and then refine your search further by selecting the features that you are looking for i.e. Wireless printers, multifunction printers, and inkjet printers. This should leave you with a select few that will make it easier to compare.
Small to Medium Businesses
An office printer can be very influential to a business, especially when printing letters or documents that carry your company image or brand, which means picking the right printer could be a very important business decision. Here are some questions to think about when looking for a new printer.
Do you need a printer that can cope with a high work load or bulk printing?
Do you need to print in colour or just mono (black)?
How many people will need to use it….Do you need to connect it to a network?
Do you need to copy, scan and fax?
How fast do you need the printer to be?
Would you like to print high quality pictures or text?
Do you need an extra paper tray?
Most businesses if not all businesses have a heavier requirement for printing than a home user or student which is why I would recommend a laser printer, here are some points as to why a laser printer is better. 
A laser printer is designed to print large amounts of documents in one go, and still remain cost efficient.
Most laser printers are quicker and can print more pages per minute than an inkjet printer, so you can get your print job done much quicker.
Laser printers can be cheaper to run too. Some toner cartridges have a higher page yield than ink cartridges, which means you wouldn't need to purchase your consumables as often.
If you had a multifunction machine in your office you could help reduce your printing costs, as running one machine is cheaper than running four (scanner, photocopier, fax machine and printer).
If your business has over 5 employees it will definitely benefit you to look for a wireless printer or one that can connect to your network, it makes sense having one main printer that everyone can print to than 5 or 6 dotting around the office (to find out whether a printer is network ready model number will includes a N e.g. P2055DN).
If you would like more information to help find the right printer for you, please call our friendly customer care team on 0845 365 3605.