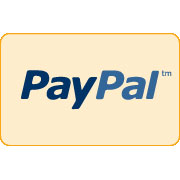 TonerGiant has recently added PayPal as an additional payment method on our website. PayPal is one of the world's leading online payment solutions boasting over 230 million users that have a PayPal account.
When you register with PayPal, you can choose which credit cards and / or bank accounts to associate with your account. Then when you shop online at a participating retailer, like TonerGiant.co.uk, you simply checkout using your PayPal account without the need to retype you credit or debit card details.
Want to make re-ordering incredibly quick and easy? Then try the following:
Create an account with TonerGiant, so you can see your previous order history and your most frequently purchased ink and toner cartridges. Then use PayPal as your payment method and you can actually checkout with as little as 6 or 7 clicks. And you know that TonerGiant deliver in Super-Fast time, making the process convenient and painfree!